Breakfast Loaded Sweet Potatoes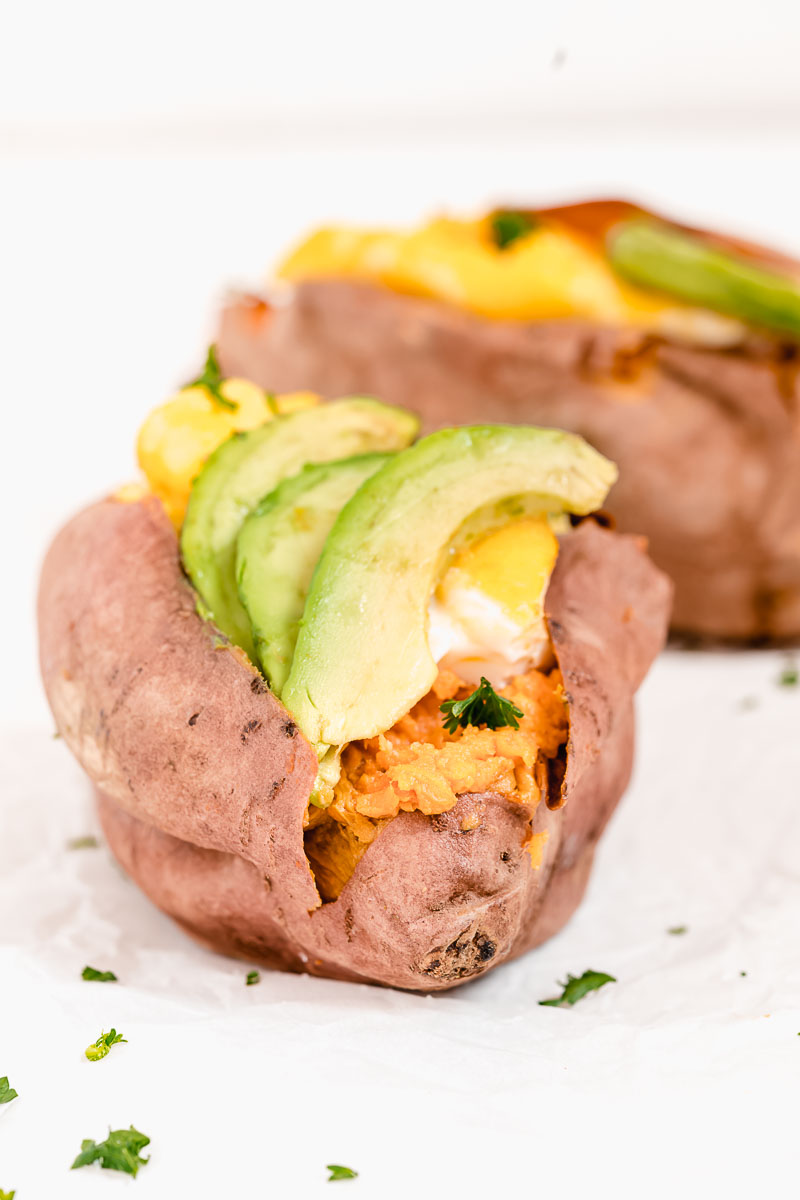 Breakfast Loaded Sweet Potato
paleo, dairy-free, gluten-free
These Breakfast Loaded Sweet Potatoes are the ultimate savory brunch item. Stuffed with soft scrambled eggs, avocado slices, and fresh herbs, these may be my favorite way to enjoy a sweet potato.
I'm a sucker for a sweet potato. If I could bring 1 food item on a deserted island, sweet potatoes would be on the short list. I've stuffed them with Buffalo Chicken, I've baked them in a Cookie, and I've transformed them into a Blondie. There are hundreds of ways to use sweet potatoes but I think combining it with my love for breakfast foods may be the ultimate winner in my book.
Just think, first thing in the morning, a fork full of equal parts warm mashed sweet potato, soft scrambled eggs, and creamy avocado 🤤. Definitely one of my favorite ways to wake up in the morning. A breakfast loaded sweet potato is great because it is one very balanced meal - you have your complex carb (the sweet potato), your protein (the scrambled eggs), and your healthy fats (the avocado and the yolk of the egg). It's the easiest healthy meal to kick start your day if you ask me.
I love baking sweet potatoes on Sundays for a quick "meal prep" sort of deal. They take little to no effort to make - you just push a couple buttons on your oven and place the potatoes on a baking sheet and go about your day for an hour. Easy as that. Then, I have them in the fridge for breakfast, lunch, or dinner because sweet potatoes are THAT diverse of a food.

Breakfast Stuffed Sweet Potatoes
Ingredients
2 sweet potatoes

1 tsp coconut oil (or oil of choice)

4 eggs

1 avocados

! Tbsp fresh parsley (finely chopped)

dash of sea salt
Directions
Preheat oven to 400 F

Line a baking sheet with aluminum foil and place sweet potatoes on sheet

Bake in oven for 45 minutes to an hour (press on sweet potato with the back of a spoon, if the potato gives in a bit then it's ready)

While sweet potatoes are cooling off, heat coconut oil in a skillet over low heat and whisk the eggs in a bowl

Pour eggs into skillet and wait about a minute for the edges to thicken up then slowly fold the eggs towards the center of the pan. Turn off the element when the eggs are just shy of thoroughly cooked (they cook someone afterwards)

Cut avocado into halves and then into slices

Slice open the top of the sweet potato, spoon in scrambled eggs, and top with avocado slices, fresh chopped parsley, and sea salt

MAKE SURE TO TAG ME @THE.FIT.PEACH ON INSTAGRAM OR LEAVE A COMMENT BELOW IF YOU MAKE THIS BREAKFAST LOADED SWEET POTATO RECIPE.