Lemon Poppy Seed Overnight Oats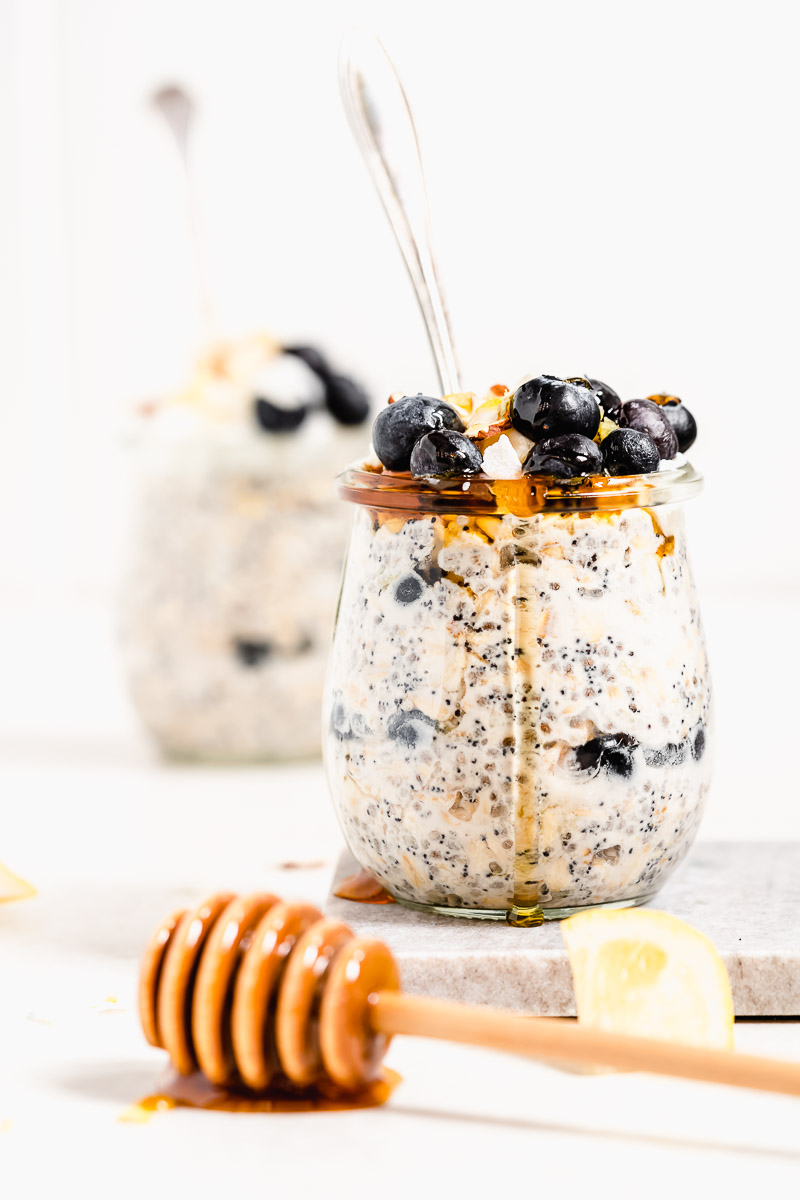 Lemon Poppy-seed Overnight Oats
vegan, dairy-free, gluten-free options
In my opinion, a nice big bowl of oatmeal is the ultimate breakfast and overnight oats are the easiest way to make it! Loaded with rich fiber from the oats and chia seeds (those are key!), a bowl of this is sure to keep you fueled for all of life's adventures.
There are three words that are sure to brighten up your day - LEMON. POPPY. SEED. I mean is there a combo that brings more sunshine to your day? These lemon poppy seed muffins are still one of my favorites recipes to date!
Okay so friends, these overnight oats are basically those muffins in a bowl of oats. Is your mind blown because my mind is BLOWN. You get the tartness of the lemon, with a little sprinkle of those poppy seeds, and a whole lot of creaminess from these glorious oats - it's like one big breakfast partayy 😎
Let's talk health and nutrition for a sec here because this bowl is packed with all the good stuff.
I used sprouted oats which have a little more nutritional value that old fashion rolled oats (which are still a stellar option too). They are easier to digest, have more absorbent vitamins, and a tad lower carbohydrate count. Oats in general have more protein then you might think with over 13g for a 1/2 cup serving. *To make this recipe gluten-free simply use gluten-free oats.

Chia seeds are what makes these oats FLUFFY! Chia seeds also add in more fiber (can't get enough of that stuff), contain loads of antioxidants, and are high in omega-3 fatty acids.
Basically a bowl of oats is a wonderful snack, breakfast ,whatever and they are quite delicious, especially when you add in that lemon poppy seed flavor!

Healthy Lemon Poppy Seed Overnight Oats
Ingredients
For the Oats
Toppings (optional)
plant-based yogurt (if not dairy-free use yogurt of choice)

fresh blueberries
Directions
In a mixing bowl, add oats ingredients and mix thoroughly so oats are coated in liquid

Transfer mixture to an airtight container (either one large container or split into 6 jars) and place in fridge overnight

When ready to eat, add optional toppings to oats and enjoy (these oats will keep for up to a week in the fridge)
MAKE SURE TO TAG ME @THE.FIT.PEACH ON INSTAGRAM OR LEAVE A COMMENT BELOW IF YOU MAKE THIS LEMON POPPY SEED OVERNIGHT OATS RECIPE.