Refreshing Mediterranean Quinoa Salad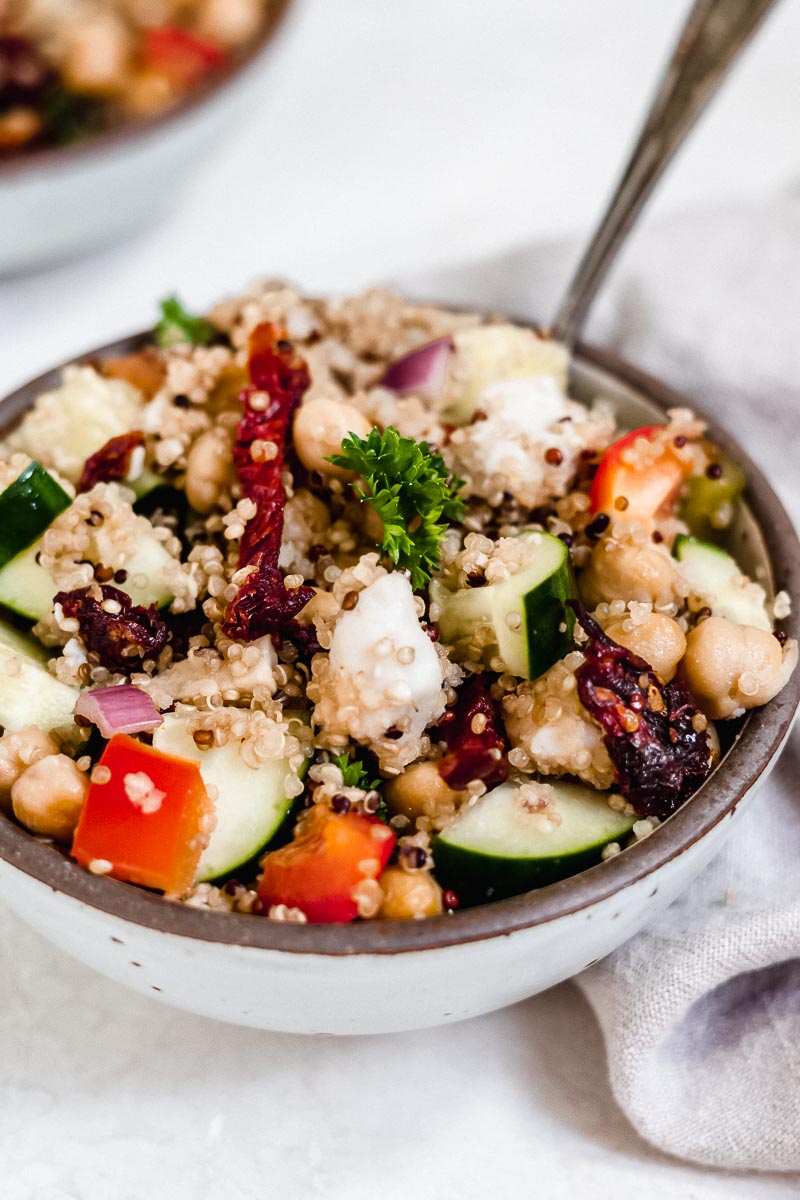 Not your average salad - this one is packed with tons of fiber, healthy fats, and plant-based protein so it's great for lunch or a snack! This healthy quinoa salad is the perfect refreshing salad with juicy cucumbers, crunchy red peppers, creamy vegan mozzarella, fresh curly parsley, and of course extra fluffy quinoa.
I think if I could live anywhere in the world it would be somewhere along the Mediterranean because I will NEVER get sick of their food - filled with the freshest ingredients, always refreshing, and don't even get me started on the humms 😋.
This recipe uses a plant-based mozzarella cheese that has simply rocked my world. It's still silky smooth and creamy but without all the dairy (I personally am not lactose intolerant but find that I feel my best with I keep the dairy consumption low). However, if you're lucky enough to not be dairy-free, feta or regular mozzarella would be killer in this salad!
I'm all about things you can make in big batches so you have something ready to eat just sitting in your fridge when those tricky situations arise (hellooo meal prep). This recipe is super easy and quick to toss together and is endlessly flavorful.

Refreshing Mediterranean Quinoa Salad
Ingredients
1 cup quinoa (dry)

3 cups water

1 13oz bag chickpeas (rinsed and drained)

1 large cucumber

1 large red bell pepper

1/4 red onion

1/4 cup sun dried tomatoes

1/4 cup parsley (loosely packed)

1/3 cup vegan mozzarella cheese (I used Miyokos brand)*

1 Tbsp + 1/4 cup olive oil

2 Tbsp balsamic vinegar

1 Tbsp lemon juice

dash of sea salt
*If not dairy-free, use feta or regular mozzarella
Directions
Heat 3 cups water over high heat until it begins to bowl

Add quinoa to pot, reduce to a simmer, and put lid on top - continue to cook for 12-15 minutes until fluffy

While quinoa is cooking, heat 1 Tbsp olive oil in a skillet love low heat and wash and drain chickpeas

Add chickpeas to skillet and cook in olive oil for ~5 mins until golden

Chop cucumber, red bell pepper, and onion into small pieces

In a large bowl, add cooked quinoa, sauteed chickpeas and the remaining ingredients to bowl, stir to coat thoroughly
MAKE SURE TO TAG ME @THE.FIT.PEACH ON INSTAGRAM OR LEAVE A COMMENT BELOW IF YOU MAKE THIS MEDITERRANEAN CHICKPEA QUINOA SALAD RECIPE.