Sweet Potato Chocolate Chunk Blondies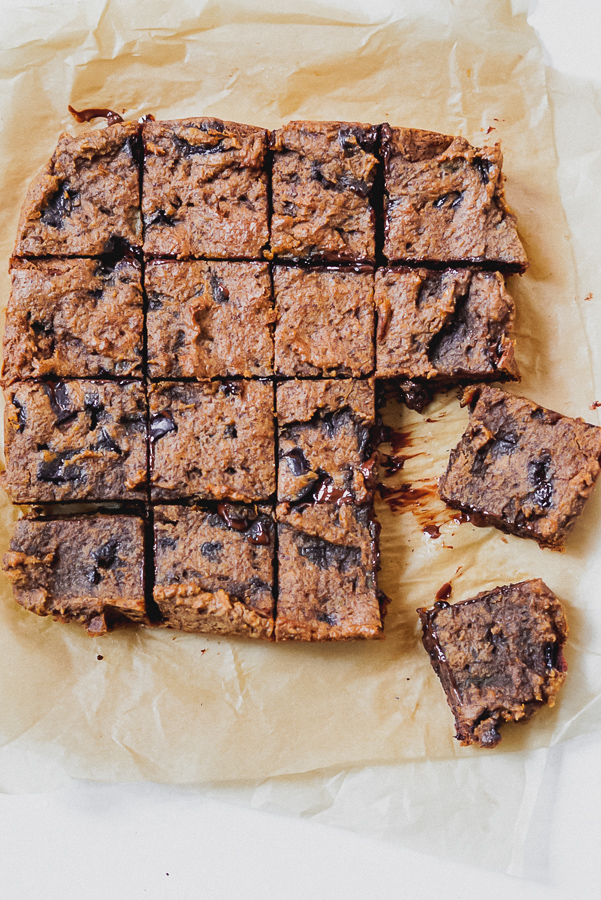 Sweet Potato Chocolate Chunk Blondies (gf, paleo-friendly)
Ingredients
1 cup mashed sweet potato
2 1/2 cup almond flour
2 eggs
2 Tbsp coconut nectar
1 tsp vanilla
1 tsp cinnamon
1 tsp baking powder
pinch of sea salt
Have you ever wondered where the term 'Blondie' came from? No, not the rock band or the girls referenced in those really not funny jokes you probably told in middle school. I'm talking about the delicious, buttery baked good that comes out of a brownie tin that for some reason isn't cool enough to be dubbed a 'brownie'. Well, I looked it up and according to Google, the term 'blondie' means a blonde brownie (really tough club to get into apparently). That got me thinking even more into this - since these are primarily made out of sweet potato and a little red head baked them, does that make them 'strawberry blondies'? These are the things that go through my head. However, in an effort to not cause confusion I'm just going to stick with Sweet Potato Chocolate Chunk Blondies.
Want to know a secret? This recipe actually originated as my Sweet Potato Chocolate Chunk Cookies. I loved those cookies so much I decided I wanted to try to bake them into brownie bars - because sometimes I'm in more of a square kinda mood (anyone else feel me?). These puppies are gooey and extra chocolaty and would hands down be fantastic accompanied by some ice cream.
Sweet Potato Chocolate Chunk Blondie Directions
Yields 16 square blondies
Preheat oven to 350F. Using a hand mixer, beat together mashed sweet potato, almond flour, and eggs in a large bowl. Mix in coconut nectar, vanilla, cinnamon and baking soda until well mixed. Fold in chocolate chunks and sea salt. Line a square baking pan with parchment paper (or grease the pan) and pour batter into pan. Bake for about 26 minutes until sides start to pull away. Let cool, slice and enjoy!