It's hard to pass up one of these thick and chewy gluten free soft pretzels! With a classic alkaline taste, twisted shape, and salty pearls on top, this is a recipe everyone will love.
Theses giant soft gluten free pretzels are next-level amazing. Think buttery crust sprinkled with coarse sea salt and a super soft doughy inside. The ultimate gameday snack if you ask me! Along with this Whipped Feta Pizza!
Dip them in spicy brown mustard, your favorite cheese sauce, or just enjoyed alongside a glass of your favorite alcoholic beverage - honestly, you can't go wrong. They're made gluten-free and vegan so they're perfect for a crowd!
Jump to:
Why I love this recipe
They're thick and chewy
Made gluten free and vegan (but you wouldn't even know!)
Perfect for Oktoberfest or gameday
Made at home
Oat flour based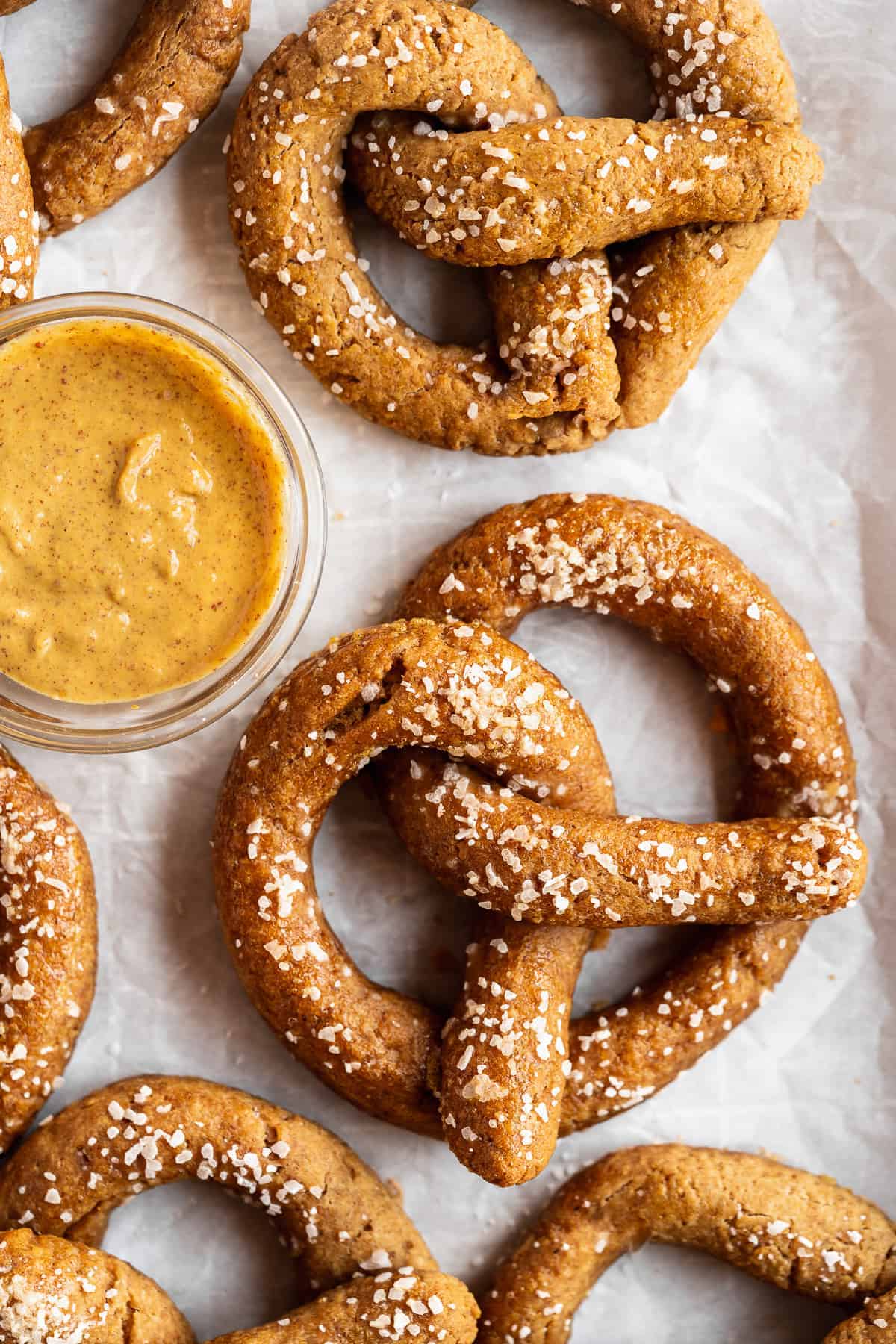 Ingredients and notes
Oat flour + Tapioca flour - The combination of oat flour and tapioca flour is what gives these pretzels their pillow-y soft structure.
Almond milk + Apple cider vinegar - Make sure the almond milk is warm. Mixing almond milk and apple cider vinegar is also known as 'vegan buttermilk' and ensures the pretzels rise when baked.
Instant yeast - Make sure to use instant yeast so you can get to these soft pretzels fast!
Maple syrup - To add hint of sweetness to the pretzels. You can also use honey or agave.
Olive oil - A little olive oil makes sure the pretzels don't come out dry and crumbly. Substitute with avocado oil or another neutral oil if needed.
Baking powder - Baking powder is used in the pretzel dough and reacts with the 'vegan buttermilk' to make the pretzels rise.
Baking soda - This is used for the 'baking soda bath' once the pretzels are ready to go in the oven. This is a MUST for classic soft pretzels.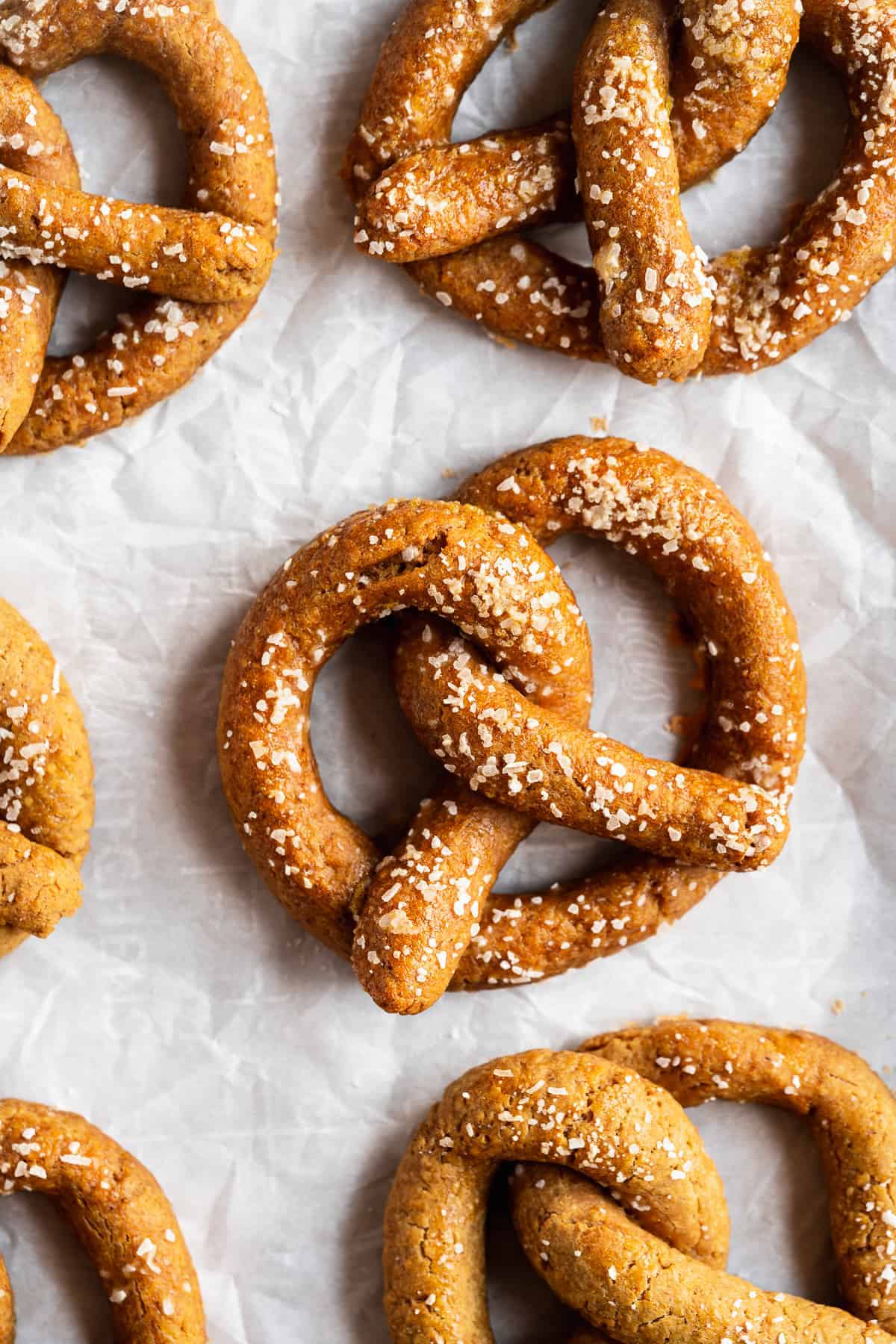 Step by step instructions
Step 1 : Prepare the yeast. Warm up almond milk so it's lukewarm. You don't want it do be too hot or you risk killing the yeast. It should be warm to the touch. Add the packet of yeast to the milk and let it sit for 2 - 3 minutes until foamy.
Step 2 : Add the wet ingredients to a bowl. This is just the maple syrup and the apple cider vinegar.
Step 3 : Fold in the dry ingredients. Add the oat flour, tapioca flour, baking powder, and sea salt to the bowl and gently fold into the wet ingredients.
Step 4 : Knead the dough. Lightly flour a flat surface and knead the dough until it's not sticky and is soft and tender to the touch. Let the dough rest in a bowl greased with oil.
Step 5 : Cut the dough into pieces. You should be able to get 8 - 10 pieces from the dough.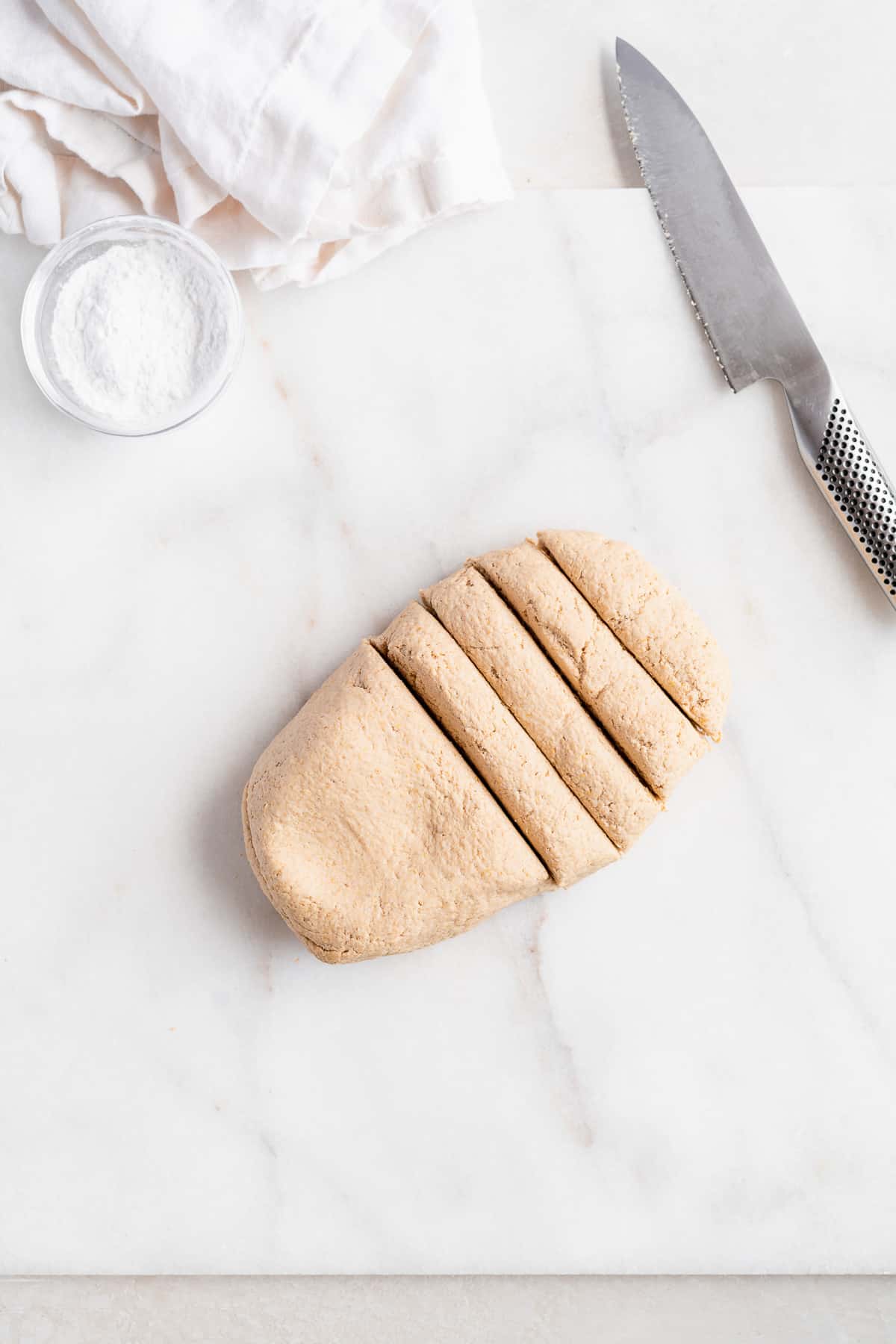 Step 6 : Form a pretzel shape with the dough. Use the palms of your hands and roll the dough into a long snake like shape about 2 feed long.
Make a U shape with the dough and then bring the two ends to the center and cross the right side over the left. Twist the two ends one more time by pulling right end over the left and pulling left over to the right side.
Then gently pull the two ends down to the bottom of the circle to make a pretzel shape.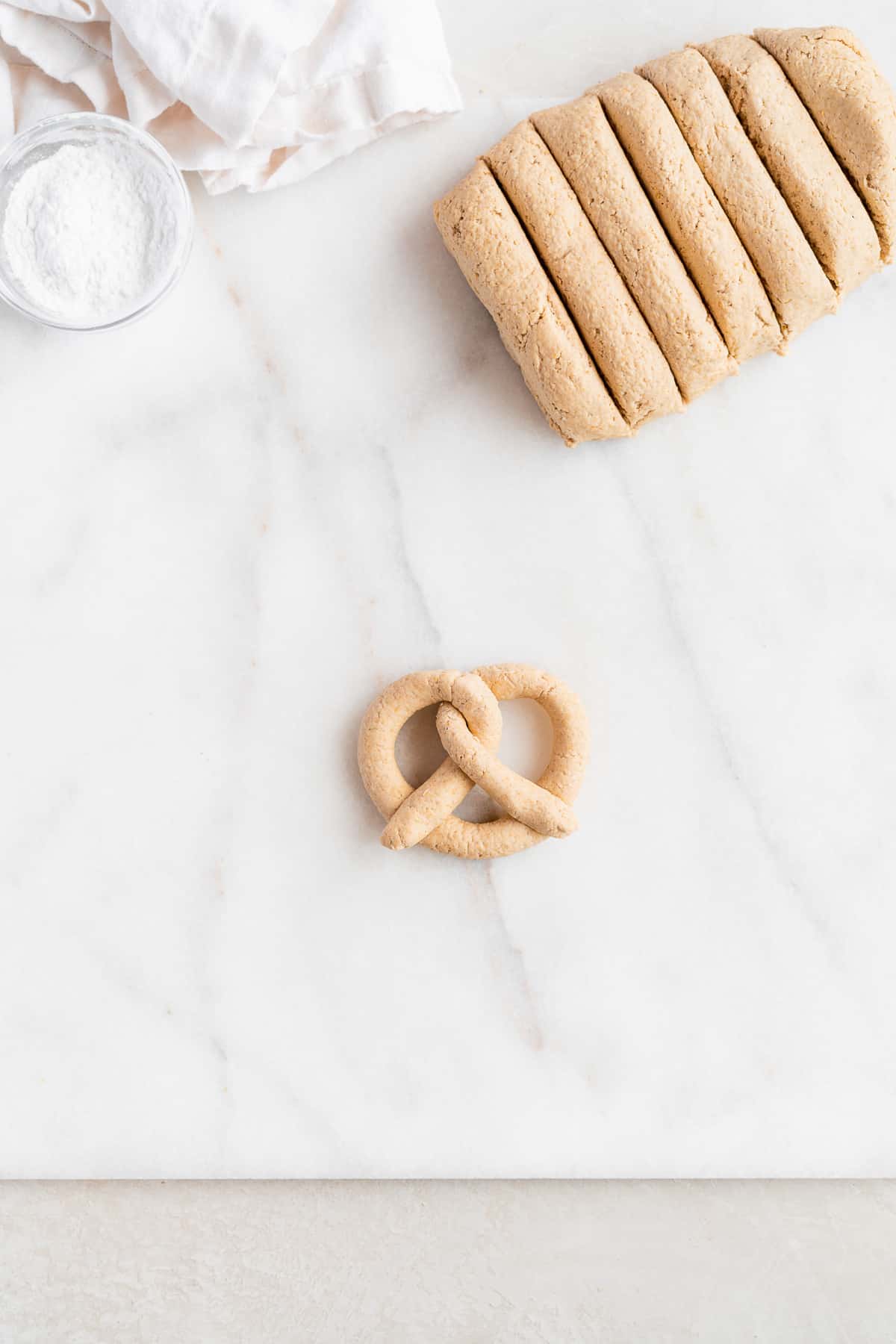 Step 7 : Prepare the baking soda bath. Add the baking soda to a pot of water and heat until it simmers. Gently lower each pretzel into the baking soda "bath" for about 30 seconds then place on a baking sheet to bake.
While each pretzel is still damp from the baking soda bath, sprinkle with kosher salt.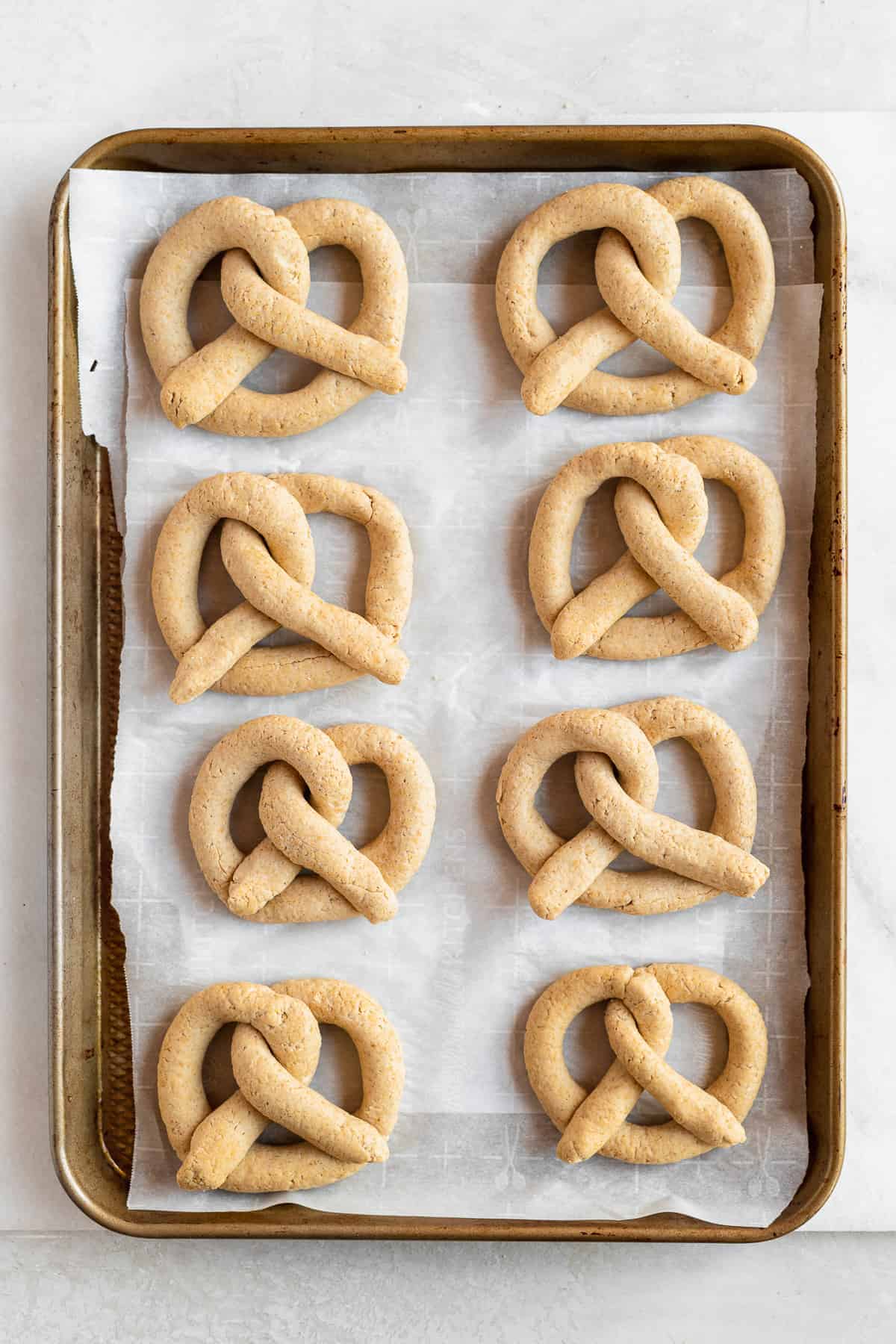 Step 8 : Bake! Let the pretzels bake in the oven until nice and golden brown. Let them cool slightly before enjoying warm.
Looking for more tasty snacks $ apps? Check these out!
Recipe
Gluten Free Soft Pretzels
Jaw-dropping salty, buttery, and soft gluten-free pretzels! They're crispy on the outside yet fluffy and chewy on the inside.
Print
Pin
Rate
Servings:
8
- 10 Soft Pretzels
Ingredients
1 ½

cup

warm almond milk

2 ¼

teaspoon

instant yeast

-

1 package

1

teaspoon

sea salt

-

plus more to add on top

½

tablespoon

maple syrup or honey

1

tablespoon

apple cider vinegar

3 ⅔

cup

gluten-free oat flour

⅔

cup

tapioca flour

-

plus more to roll out dough

1 ½

teaspoon

baking powder

2

tablespoon

olive oil

⅓

cup

baking soda

1

cup

water
Instructions
Preheat your oven to 425 F. In a bowl, add the warm almond milk and instant yeast and let it rest for 2 - 3 minutes. The yeast should fuzz up and develop and foamy layer on top - this is how you know it's active.

Add sea salt, maple syrup, and apple cider vinegar to the bowl and whisk. Then, slowly fold in the oat flour, tapioca flour, and baking powder. The dough may be a tad sticky at this point but once we knead it it's easier to handle.

Transfer the dough to a flat surface sprinkled with extra tapioca flour. Knead the dough for 3 -4 minutes until it's soft and pillow-like.

Spread the olive oil along the sides of a bowl and add the dough to the bowl. Let the dough rest for about 15 minutes.

Transfer to a flat surface again and cut 8 - 10 slices of dough. Roll in between the palms of your hands and the flat surface to create a "snake". To form a pretzel shape, make a big U with the dough. Layer the right side of the U over the left so you have a V on top of an O. Next, grab the right-end and pull it to the bottom left side of the O beneath. Pull the left-end and pull it to the bottom of the right side of the O. You should now have a pretzel shape. Press the tails down slightly to secure the pretzel.

Heat ⅓ cup baking soda in a pot of water until it simmers. Gently lower each pretzel into the baking soda "bath" for about 30 seconds then place on a baking sheet to bake.

Sprinkle with sea salt and bake for 13 - 15 minutes until golden brown. These pretzels are best enjoyed fresh out of the oven.
Notes
Storing : Transfer leftover pretzels to an airtight container, and store them at room temperature for 1 - 2 days.
Nutrition
Serving:
1
serving
|
Calories:
320
kcal
|
Carbohydrates:
50
g
|
Protein:
10
g
|
Fat:
9
g
|
Saturated Fat:
1
g
|
Polyunsaturated Fat:
2
g
|
Monounsaturated Fat:
5
g
|
Sodium:
1813
mg
|
Potassium:
242
mg
|
Fiber:
5
g
|
Sugar:
2
g
|
Vitamin C:
0.01
mg
|
Calcium:
137
mg
|
Iron:
3
mg