Homemade Paleo Pumpkin Biscuits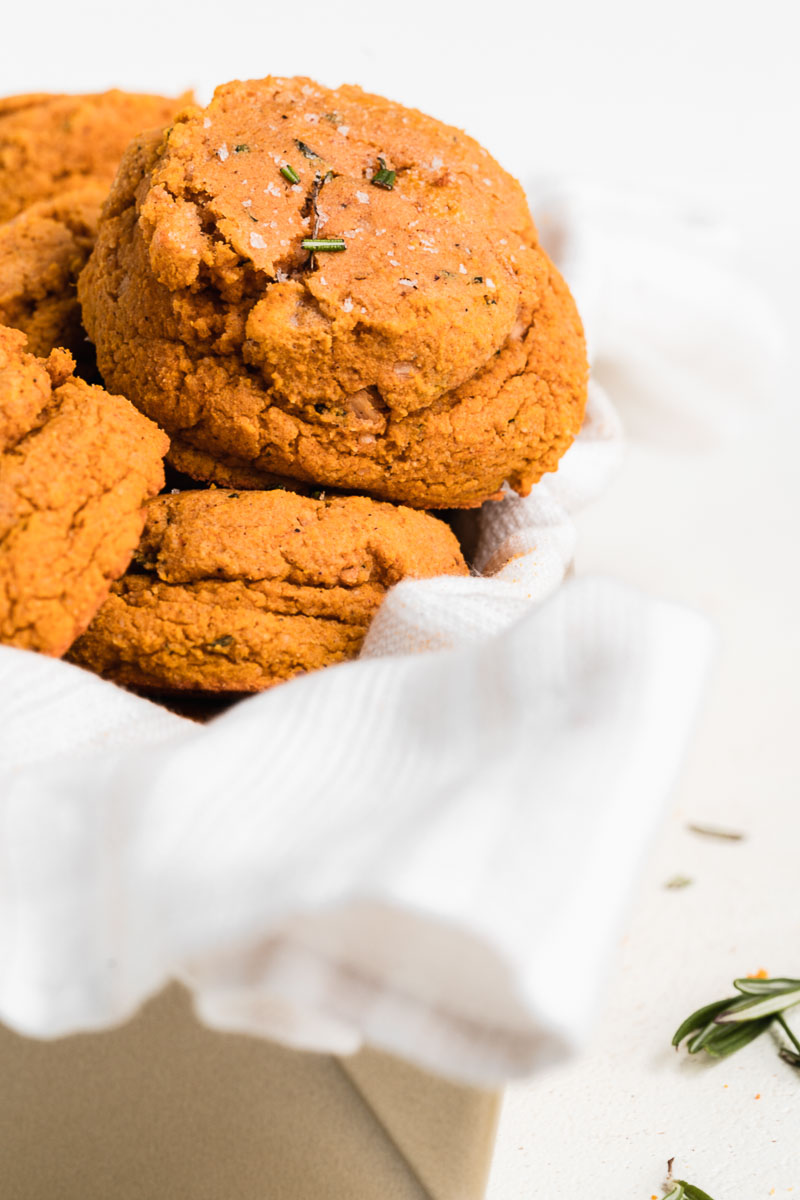 Homemade Paleo Pumpkin Biscuits
paleo, dairy-free, gluten-free
Warm, tasty, melt-in-your-mouth pumpkin biscuits made right at home. This delicious fall favorite makes the ultimate breakfast, brunch, or snack. They are full of savory fall flavors and quick and easy to whip up! No rolling pin or biscuit cutter needed, these drop biscuits come together in under 15 minutes.
Look, I grew up in the south…I know a good biscuit when I see one. I'm proud to say I can confirm, this pumpkin biscuit has passed the southern's test and boyyyy is it tasty! These biscuits are light & fluffy yet packed with flavor depending on how ya spice it up (more on this below). What I love most about them is how easy they are to make. Who has time for rolling out dough and biscuit cutters when they're in full blown brunch mood? These pumpkin biscuits will solve all your problems — no yeast or rolling pin involved and they come together n under 15 (yes, 15!!) minutes!
This recipe calls for paleo baking flour which may be my new favorite thing. It takes all the hard stuff off your hands because it's a pre-mixed combination of flours typically used in paleo baking. Ingredients are typically almond flour, arrowroot starch, coconut flour, and tapioca flour (aka the 4 amigos, at least that's what I call them). You see, one of the difficulties of baking healthier treats is that it is hard to find an exact replacement for the all-mighty white flour. I love my almond flour and use it a ton in my baking but you need to use another type of flor like coconut or tapioca to "cut" the density of the almond flour which can be rather heavy. I won't bore you with all the tiny details of this struggle but what I will tell you is paleo baking flour is a gift from above because it's already mixed together.
Don't have paleo baking flour near you? No problem — mix together 2 cups almond flour, 1 cup arrowroot starch, and 1/2 each coconut flour and tapioca flour. You'll have a little left over after you make these biscuits but that's okay, I'm sure you'll want to make them again soon 😉.
How to Spice up Homemade Paleo Pumpkin Biscuits
I'm a sucker for a good savory biscuit but sometimes I'm craving a sweet biscuit too…here's how we can change things up:
Sweet biscuit option 1- replace the garlic powder and herbs with 3 Tbsp coconut sugar and 1 tsp vanilla. The combination of pumpkin and coconut sugar is absolutely delicious! Drizzle some honey or nut butter in the middle and take it to the next level

Sweet biscuit option 2 - replace the garlic powder and herbs with 2 Tbsp honey and 1/2 tsp cinnamon. The biscuits already have some pumpkin spice in the mix but who doesn't love an extra little dash of cinnamon? Go all out and spread some cinnamon butter on top of a warm one!
These options are just a couple that I've tried and love. If you try something else to sweeten things up a bit, let me know in the comments below because you know I'm going to need to try it out too 😊.

Homemade Paleo Pumpkin Biscuits
Ingredients
Directions
Preheat oven to 450 F

In a bowl, whisk together the coconut milk and apple cider vinegar then add in the pumpkin puree and mix well and set aside

In a separate bowl, mix together the paleo baking flour, baking powder, baking soda, pumpkin spice, garlic powder, herbs, and sea salt

Slowly fold the flour mixture into the bowl with the coconut milk (add in little dashes of paleo flour if too sticky - you should be able to handle it with your hands)

With a spoon or an ice cream scoop, form 8 medium-sized balls with the dough. Gently press each ball down in between your hands to form a hockey puck like shape that is about 1.5 inches thick and place on a greased baking sheet

Optional - brush each biscuit with egg wash (1 egg scrambled in bowl)

Bake for 8 - 10 minutes until edges begin to turn golden brown
MAKE SURE TO TAG ME @THE.FIT.PEACH ON INSTAGRAM OR LEAVE A COMMENT BELOW IF YOU MAKE THIS HOMEMADE PALEO PUMPKIN BISCUIT RECIPE.