Cast Iron Salmon with Mango Salsa and Cauliflower Rice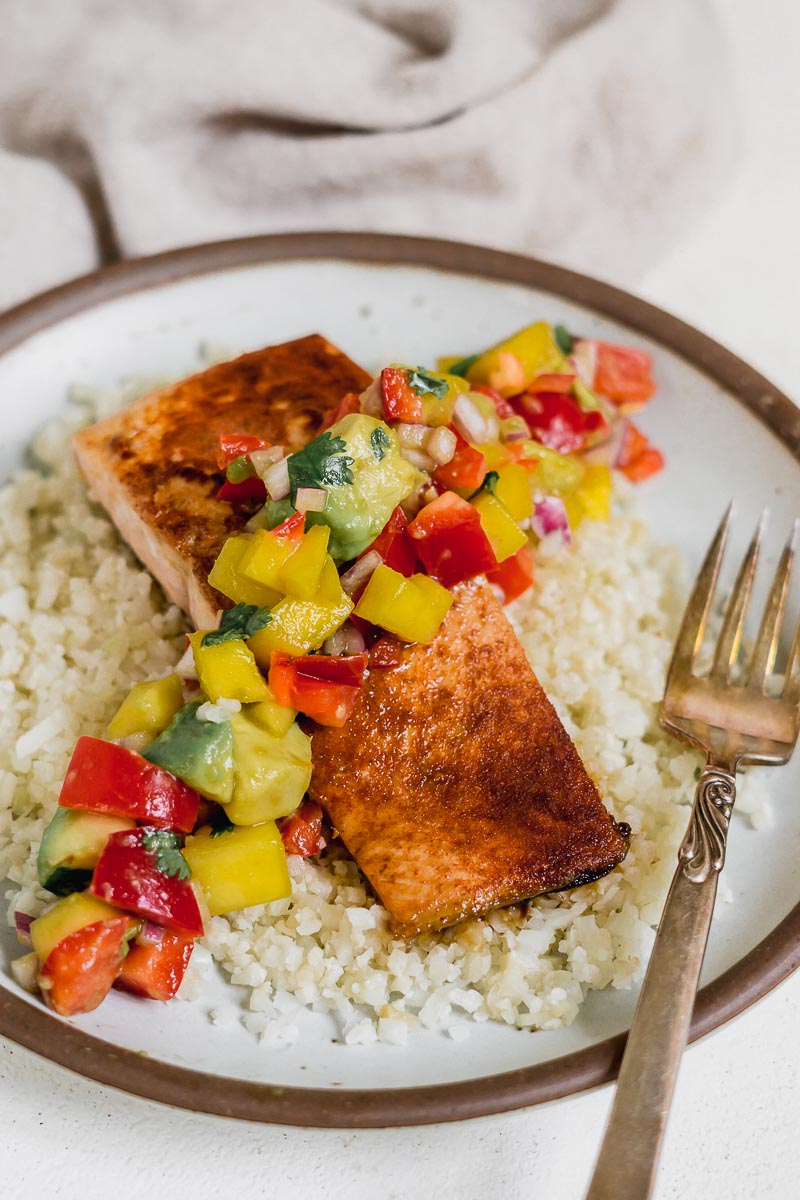 Salmon with Mango Salsa and Cauliflower Rice
paleo, dairy-free, gluten-free
When it comes to weeknight dinners, I am on team quick and easy (and obviously delicious and nutritious) most every night. This means meal prepping is one of my very close friends. My stance on meal prepping goes a little something like this - find versatile side dishes you actually WANT to eat, make a large batch, and pair it with a different protein each time. This makes things interesting and keeps your body on it's toes because you aren't feeding it the exact same nutrients every night.
This Avocado Mango Salsa is quite functional. You can eat it straight out of the bowl with some crackers for a light lunch or snack. It would be awesome with some grilled chicken. Oh but baby it is KILLER with this cast iron salmon 😍 If you know me, you know that I freakin' love salmon. I have since high school. I think I could eat it every day and be totally content (however, I know the value in mixing up your meals).
Salmon is rich in anti-oxidants and omega 3 fatty acids and is a fab source of protein. We keep a box of wild caught salmon in the freezer at all times and thaw out a couple each week. I've recently discovered Wild Alaskan Company - they deliver wild caught seafood right to our door already frozen and ready to pop in the freezer. Living in the land-locked city of Atlanta, good quality wild caught seafood is a rarity so I'm all about the convenience and low price point. (side note: if you are interested, you can use a little discount code to save some dough on that first box).
Trust me, there's no better feeling then coming home from a long day at work and realizing you have some Avocado Mango Salsa sitting fresh in your fridge, a bag of cauliflower rice in the freezer, and some fresh wild caught salmon thawed and ready to be cooked!

Salmon with Mango Salsa and Cauliflower RIce
Ingredients
for salmon
2 fillets of wild caught salmon

1 Tbsp coconut oil (or oil of choice)

1 tsp paprika

1 tsp garlic powder

1/4 cup coconut aminos
for rice
1 bag cauliflower rice*

1 tsp coconut oil (or oil of choice)

2 Tbsp coconut aminos
for mango salsa
Directions
for the salmon
Heat coconut oil in a cast iron skillet over low heat.

Sprinkle paprika and garlic powder over salmon fillets and place skin-side UP for about 90 seconds and increase heat to medium-low.

Flip salmon over so that the skin-side is DOWN. Cook for about 2 minutes, sprinkle coconut aminos over top of salmon, and let cook for another 1 minute.
for the rice
Heat coconut oil in skillet over low heat.

Add coconut rice to skillet and cook for 3 minutes, continuing to stir periodically.

Sprinkle coconut aminos over rice, stir thoroughly and place on plate with salmon
for the mango salsa
See this post for directions

Spoon about 1/4 cup of mango salsa over salmon

MAKE SURE TO TAG ME @THE.FIT.PEACH ON INSTAGRAM OR LEAVE A COMMENT BELOW IF YOU MAKE THIS SALMON WITH AVOCADO MANGO SALSA AND CAULIFLOWER RICE RECIPE.