Grab your best gal-pals around and whip up this Aperol gin lemon twist cocktail. It's a citrusy twist on the classic Aperol spritz and perfect for a girl's night. It's sweet yet tart with a thick layer of foam on top and a darling pink hue.
We take the classic Aperol spritz and add a lemony twist to the drink to make this feminine pink cocktail. It's almost like an adult version of a pink lemonade and it's perfect for any occasion.
With Valentine's day around the corner, I wanted to create a drink just for gals (but guys are welcome too!). This Aperol gin cocktail doesn't disappoint with it's citrus-forward flavor and subtle Aperol finish. Oh, and the foamy layer on top is just icing on the cake!
Check out my chocolate espresso martini and my bubbly sangria too!
Jump to:
Recipe characteristics
Sweet and citrusy flavor
Pretty pink color
Made with 5 simple ingredients
Thick layer of foam on top

A fun twist on the classic

aperol twist
Ingredients and notes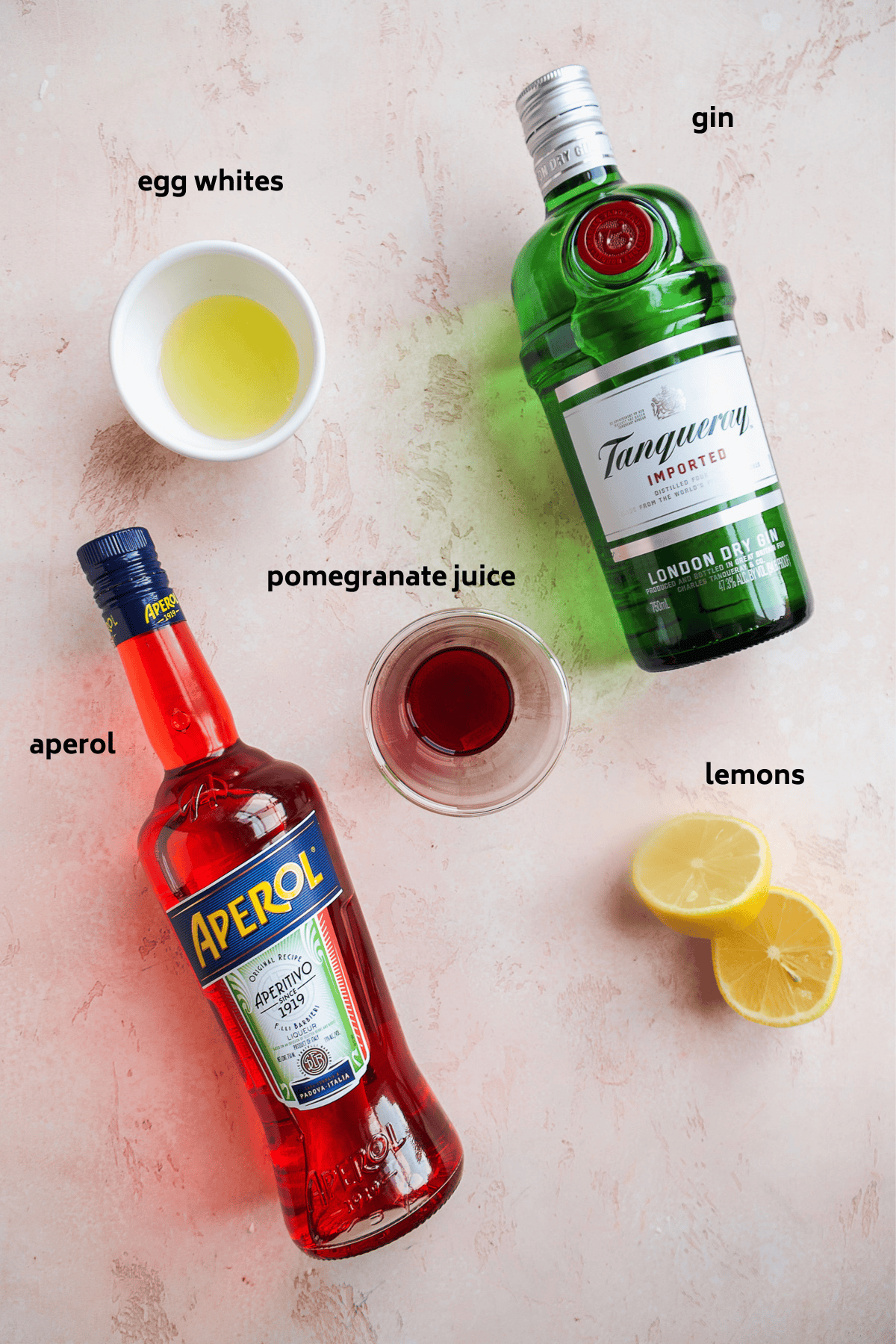 Aperol - The subtle star of the show. It's well-known orangey pink color makes for the perfect girly drink.
Gin - The liquor of choice in this cocktail. Vodka or tequila will work as well.
Pomegranate juice - Provides some added fruity flavor and helps make the drink pink. Substitute with cranberry juice if needed. Ginger beer or sparkling water are great alternatives too.
Egg whites - This is used to achieve the foam on top of the drink. Substitute with aquafaba to make vegan.
What is aperol?
Aperol is an Italian bitters apéritif. It's made from gentian, rhubarb, and cinchona. It has a distinct orange/pink color and is commonly used as a before dinner drink or happy hour spritz.
It tastes citrusy and sweet with hints of orange. It's refreshing and adds lots of flavor to whatever you mix with it. Nowadays, you can find a bottle at most liquor stores.
The dry shake
A "dry shake" in the world of cocktails means shaking the drink without ice first. Once the drink is well shaken, then add the ice and shake again to chill it.
Whenever you have egg white in a drink, like in this Aperol gin cocktail, you should dry shake first as this is what give the drink it's signature foamy layer. The egg whites froth better into the other ingredients when ice isn't used. The dry shake allows for the froth to develop and then you add the ice to make the drink cold.
The reverse dry shake
Exactly what it sounds like! The reverse dry shake is the opposite of the dry shake. So in stead of shaking with ice last, you shake with ice first, then remove the ice, and perform the dry shake.
This version works well if you forgot about the dry shake and accidentally already added ice to the shaker.
Cocktail equipment
You don't need much to make this cocktail. I recommend a two shaker set like this which has a large shaker and a small shaker that fits inside it. These are much easier to use than the shakers that have a lid.
You will also need a strainer like this to pour the drink through. You usually can get away with using one of the cups to hold the ice back when pouring but because this cocktail has fresh lemon juice, I recommend using a strainer to prevent seeds and any pieces getting in the drink.
How to make a lemon twist
The garnish on the drink is always important as presentation is key in the world of cocktails. I used a lemon twist on the rim of the glass to garnish this drink.
First, cut a fresh lemon in half. Then cut a small slice from on the of the halves. The thinner the slice the better.
Make a cut from the center of the lemon to the edge. Then make a small cut along the pulp of the lemon and begin peeling the rind off. It should come off easily once you get it started. Trim any excess pump that may have come with it.
Then twist the rind around your pinky finger or around a straw or pin. The rind will stay in a twisted shape when you set it down.
Expert tips
As with most cocktails, use fresh ingredients. Fresh pomegranate juice and lemon juice are key to the drink.
Use a real egg white if you can. Fresh egg whites froth better than the egg whites from a carton. If you need a recommendation on how to use the yolk, try my gluten free copycat Levain bakery cookies or my mini gluten free key lime pie tarts.
Remember to dry shake! This is important when using an egg white in a cocktail. If you forget and shake the drink with ice. Remove the ice once it's chilled and do the dry shake before pouring into a glass.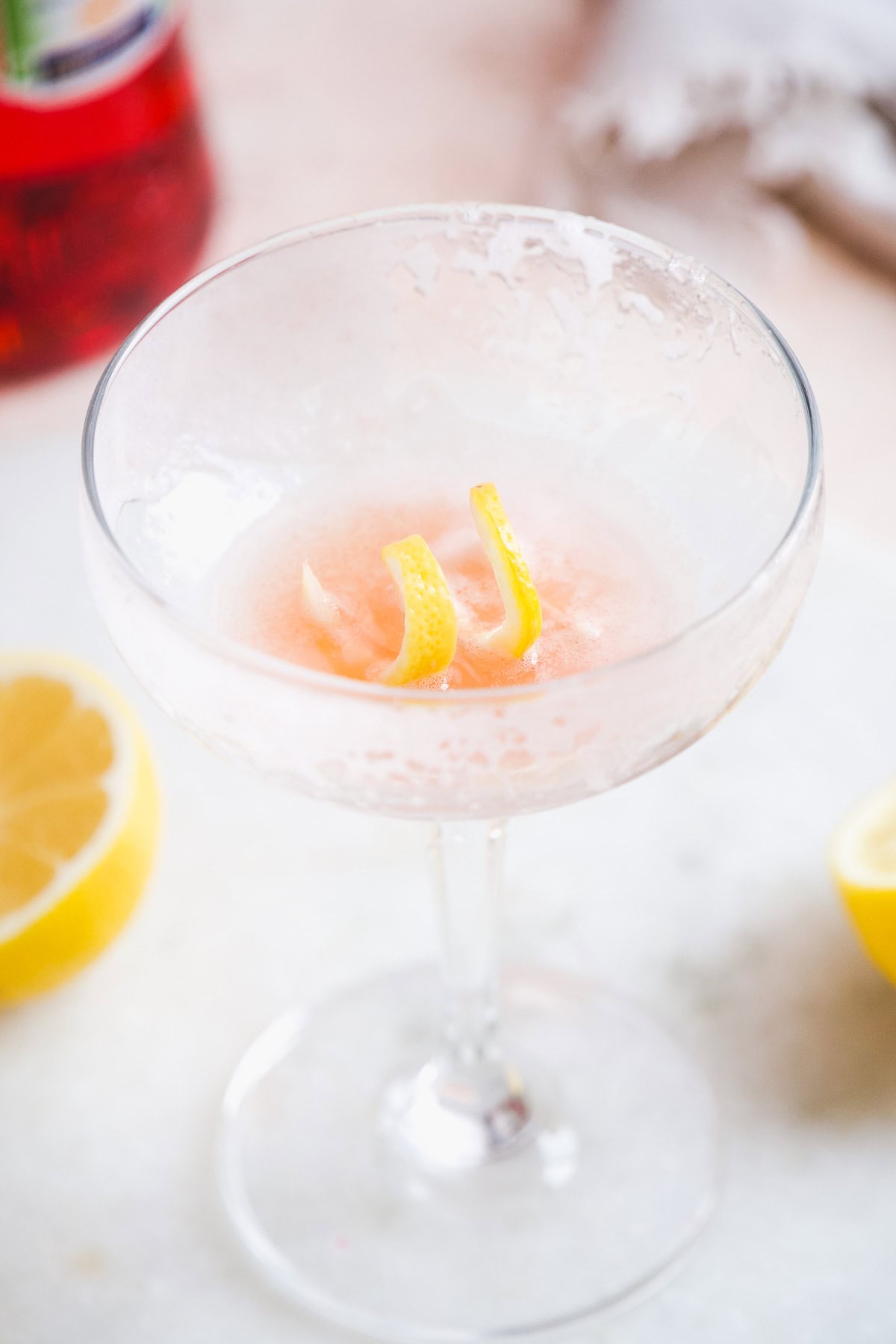 You'll also love these cocktails:
---
PS : If you make this recipe, be sure to leave a star review and comment below! Also be sure to follow along with me on Instagram and Pinterest to stay up to date on all tasty recipes here at The Fit Peach!
---
Recipe
Aperol Gin Lemon Twist Cocktail
Grab your best gal-pals around and whip up this Aperol gin lemon twist cocktail. It's a citrusy twist on the classic Aperol spritz and perfect for a girls night. It's sweet yet tart with a thick layer of foam on top.
Print
Pin
Rate
Ingredients
1

egg white

1

oz

Aperol

1 ½

oz

gin

½

oz

pomegranate juice

¼

oz

lemon juice

-

approx. ¼ lemon
Instructions
Pour the cocktail ingredients to a shaker without ice and shake vigorously for about 30 seconds. This is the "dry shake" which allows the egg whites to froth better. There should be a thick layer of pink froth in the shaker.

Add ice to the shaker and shake again for another 20 seconds to chill the drink.

Use a strainer to pour the drink into a cocktail glass. Top with a lemon twist, if desired and enjoy!
Notes
Dry shake : This is really important whenever you have a cocktail with egg whites. Shake all the cocktail ingredients in a shaker without ice first which allows the egg whites to froth. Then add the ice and shake it to chill the drink. If you forget, remove the ice and do the dry shake after. Egg whites : Fresh egg whites are best but if you need to, 2 tablespoon of the egg whites from the carton will work as well. Egg white substitute : Swap the egg whites with aquafaba to make this vegan. Make for 2 : If your shaker is big enough, you can make two cocktails at once. Only use 1 egg white if you're doing this.
Nutrition
Calories:
59
kcal
|
Carbohydrates:
10
g
|
Protein:
4
g
|
Fat:
1
g
|
Saturated Fat:
1
g
|
Polyunsaturated Fat:
1
g
|
Monounsaturated Fat:
1
g
|
Sodium:
57
mg
|
Potassium:
263
mg
|
Fiber:
1
g
|
Sugar:
3
g
|
Vitamin A:
1
IU
|
Vitamin C:
5
mg
|
Calcium:
11
mg
|
Iron:
1
mg