Banana Bread Doughnuts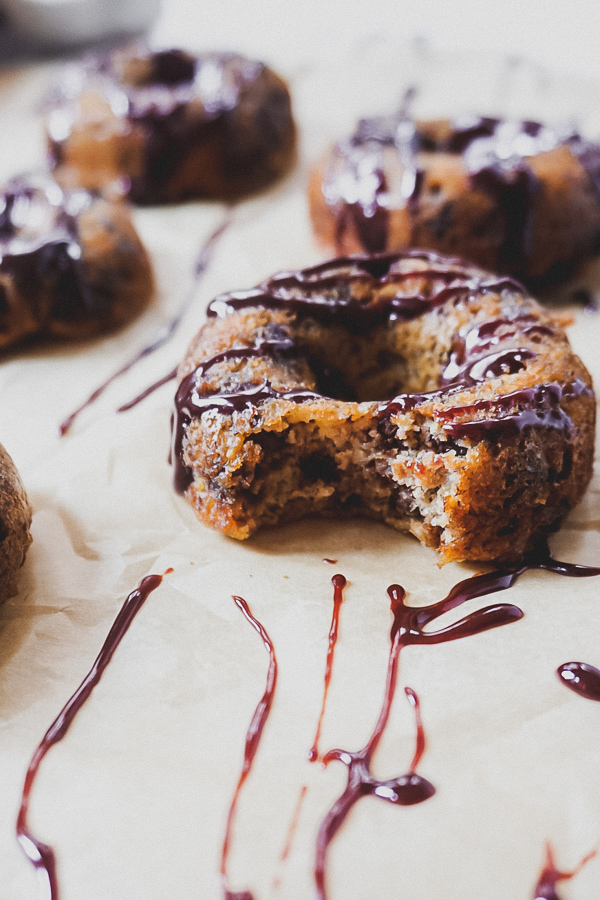 Banana Bread Doughnuts (gf, paleo)
My dad used to do this thing on Saturday mornings when I was a kid - he called it the 'doughnut fairy'. He would wake my sister and me up around 7am and we would pile in his car. We'd drive 20 minutes up the road to the nearest Krispy Kreme and order like 6 dozen glazed doughnuts. Then we'd leave a dozen on our friends' doorsteps, ring the doorbell, and run! Looking back, they were probably a little annoyed at the doorbell ringing so early on a Saturday morning. But they did open the door to some hot steamy doughnuts right at their feet so it wasn't a bad deal.
Fast forward 15 years and here I am, waking up at 7am on Saturday mornings baking my own doughnuts! I mean, is there anything better than a mini circular cake with a hole in the middle? Yea, didn't think so either. These cute little baked goods also bring back some pretty fond memories too - just this time with chocolate and all the bananas because I still haven't nailed down how to properly keep my weekly banana inventory ripe (accounting jokes).
If you're not a doughnut person (which you should be), check out my chocolate chip banana bread recipe which looks a lot like this one only with a little extra fluff and a whole lotta frosting!
Banana Bread Doughnuts Directions
Yields approx. 12 doughnuts
Preheat oven to 350 F. In a mixing bowl, mix together the bananas, eggs, and flour. Add in nut butter, vanilla, and baking soda and continue mixing. Fold in chocolate chips and a dash of sea salt. With a spoon, scoop the batter into a greased doughnut tin (I used vanilla bean ghee to grease and it is the.best.thing.ever). Bake for ~8 mins until edges are pulling away from the tin. Let cool.
For the drizzle, heat up fourth & heart chocolate ghee of choice in microwave safe bowl for about 15 seconds (it doesn't take long!). With a spoon, drizzle chocolate over doughnuts. Store in an airtight container in the fridge for up to a week!