The spookiest Halloween cheese and charcuterie board you'll ever lay eyes on! It's stacked with high-quality cheese, nuts and fruit, and sliced charcuterie. Consider this platter perfect for the creepiest night of the year!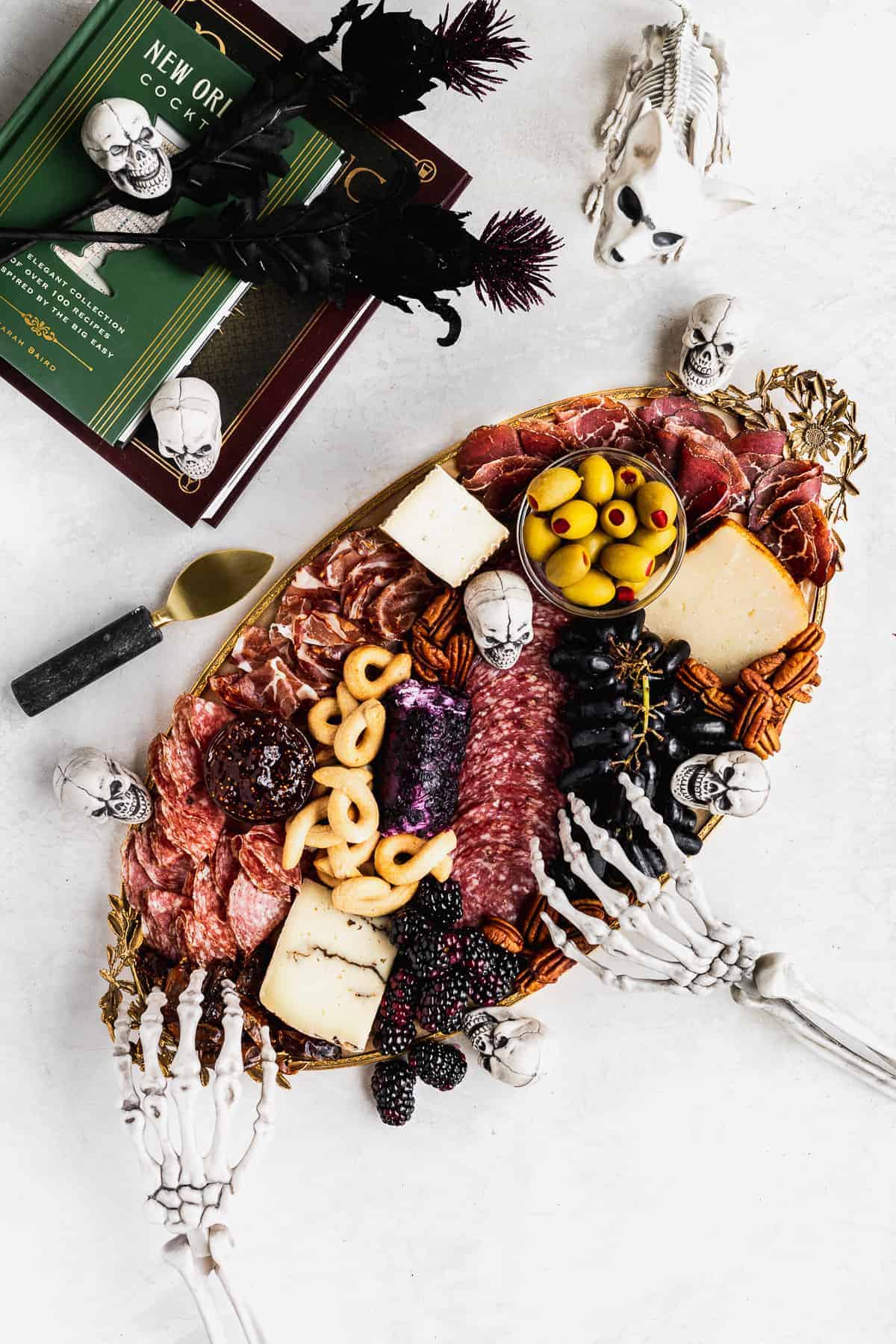 Jump to:
Halloween Cheese Board
If I'm being honest, I'm not a HUGE Halloween decoration fan - you know the googly eyes and creepy crawlers kinda Halloween. However, I am a big fan of a dang good charcuterie board. Who ever came up with the idea to spread out cold cured meats, delectable cheeses, and all the extras out on a board was pure genius.
This Halloween cheese and charcuterie board hits all the high notes. It's simple yet fun and festive for the scariest day of the year. With plump blackberries, blueberry infused goat cheese, and tomato stuffed green olives, it's Halloween-esque without being creepy crawler overload.
Assembling your Halloween Cheese Board
To assemble your cheese and charcuterie board, first gather the items you'll use to make it halloween-ish. I used skeleton hands, mini skulls, and a little animal skeleton. I also used an old gold vanity mirror as my cheese board.
Now that you have those picked out, think about what are going to be the big, bulky items on your board. This is usually large blocks of cheese, grapes, or bowls with dips (stuffed olives in my case). Place those on your board first. I like to have at least one bowl with a dip or snack in it and 2 - 3 cheeses.
Next, layer your charcuterie alongside the large items on your board. You can get creative with how you place them. If you have a thinner charcuterie, I like to fold it up into triangles and place them kind of on top of each other.
Lastly, add in the smaller elements of your board to fill it up. This could be nuts, crackers, dried fruit, etc. For this Halloween cheese board, I added pecans, chopped dates, blackberries, and some whole wheat crackers. Use these smaller items to cover up any bare spots on your board.
"Healthier" Charcuterie Board Tips & Tricks
If you're looking to make your Halloween cheese board a wee bit healthier this Halloween, here are my tried and true tips & tricks:
The Cheeses
Stick with goat and sheep's milk cheese as these will be lower in fat. I also find them to be more flavorful that full-fat cow cheese. Additionally,

many

people have issues digesting cow's milk, especially adults.
The Meats
Go for the less fatty meats. I know. Some say that's blaspheme but if you're trying to make a healthier version of a charcuterie board, put down the prosciutto. My tips on this one are 2 fold: You can usually

see

the fat on meats, if half of the slice of meat is white and transparent, it probably has a high fat content. Second, I like to limit the number of pork related meats on my boards, these usually have higher fat percentages. If you can find a good place, they'll offer many different beef varieties which are always fantastic.
The Crackers
Pick minimally processed, whole grain crackers with only a few ingredients. This could be whole wheat crackers, almond flour crackers, even CAULIFLOWER crackers. The options these days for a healthier cracker are endless. Just be sure to read the back of the label. The one I have on this board I picked up from the same place I got the meats and cheeses. The first ingredient is whole wheat, the list of ingredients is short, and I can understand all of them - winning!
The Extras
Have fun with the extra things you throw on your board. Think nuts and seeds, fresh fruit and vegetables, nutritious dips like hummus or homemade jam. This is where you can let your creativity fly. If you're already putting in the effort to make a healthy charcuterie board, I'm willing to guess that you have a few healthy snacks up your sleeve that you can toss around. Because this board is supposed to have a sPoOkY vibe to it, I thought stuffed olives were only appropriate. I then threw in some juicy moondrop grapes, raw pecans, fig jam, fresh blackberries, and chopped dates.
More spooky treats to try this Halloween
Recipe
Epic Halloween Charcuterie Board
The spookiest Halloween cheese and charcuterie board you'll ever lay eyes on! It's stacked with high-quality cheese, nuts and fruit, and sliced charcuterie. Consider this platter perfect for the creepiest night of the year!
Print
Pin
Rate
Ingredients
3 - 4

varieties of cheese

-

I used a blueberry goat, hard sheep's cheese, truffle goat's cheese, and a buffalo mozzarella

3 - 4

varieties of meats

-

I used 2 uncured salamis, a couple dry-cured beef meats

1

cup

Crackers of choice

-

I used a wheat cracker from my local butcher shop

½

cup

grapes

-

I used moondrop

¼

cup

olives

¼

cup

blackberries

6

chopped dates

¼

cup

pecans

3

tablespoon

jam

-

I used a low sugar fig jam
Instructions
To assemble, place the small bowls first on your platter/board (you can leave them empty for now).

If using grapes, place these on the board next.

Then place cheeses on different areas of the board, not too close to each other.

Fold meat into little blossom shapes or lay straight in a row on the board.

Fill some of the empty spaces with your crackers and "extra" items.

Add dips and spreads to the small bowls and enjoy!
Nutrition
Calories:
157
kcal
|
Carbohydrates:
8
g
|
Protein:
1
g
|
Fat:
3
g
|
Saturated Fat:
1
g
|
Polyunsaturated Fat:
1
g
|
Monounsaturated Fat:
2
g
|
Sodium:
68
mg
|
Potassium:
46
mg
|
Fiber:
1
g
|
Sugar:
5
g
|
Vitamin A:
34
IU
|
Vitamin C:
2
mg
|
Calcium:
8
mg
|
Iron:
1
mg