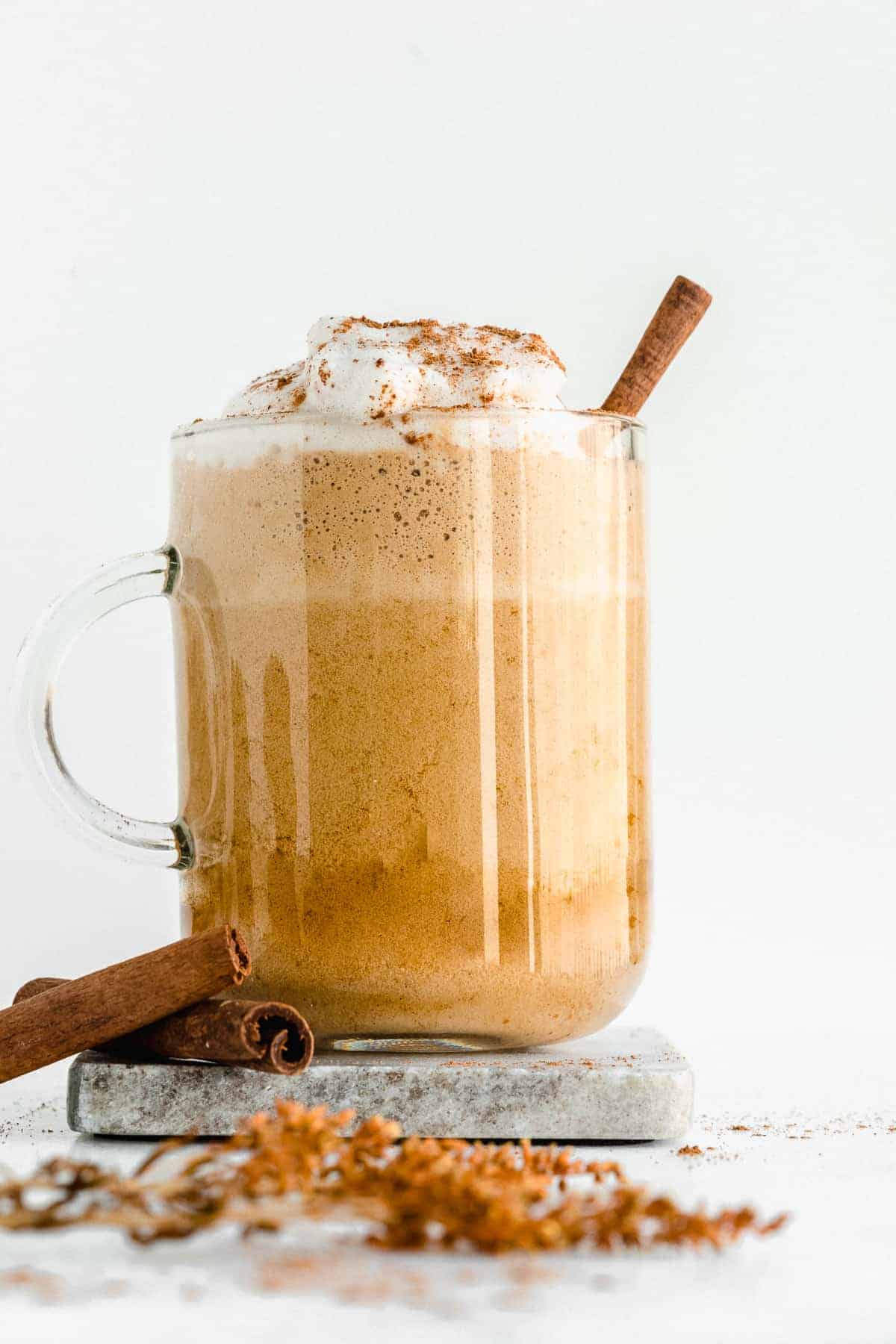 Warm and cozy vegan pumpkin spice latte you can whip up right at home! It has luxurious creaminess and beautiful autumn flavors with every sip. Made with a very special ingredient that knocks it outta the park, this latte is one for the books.
The 'Regal' PSL
Pumpkin spice lattes have a rather luxurious vibe to them don't you think? Like they were made for a king/queen (I mean they are almost $5 at Starbucks…). Other than the price though, the PSL has a royal style with its ungodly creaminess, precious hints of cinnamon and nutmeg, and the throne of milk froth that sits on top. Okay, now I'm understanding why they cost an arm and leg.
With all that said, the only adjective worthy enough to describe a drink of this stature, is regal which is why I hereby dub this masterpiece the 'Regal Pumpkin Spice Latte'.
How to Make a Homemade Latte
Homemade lattes can seem daunting. Not everyone has all the gizmos and gadgets you see at your local coffee shop. Well, I'm here to tell you that you don't need those to make an amazing latte. With the help of a super secret ingredient (spoiler alert - it's just cashew butter), you'll get that rich, light, creamy texture you know and love.
To make a homemade vegan pumpkin spice latte, simply blend all ingredients in a high speed blender and boom you've got yourself a warm & cozy latte! Bonus points because it didn't cost a fortune and you can make it in those fuzzy slippers you can't seem to take off.
Ingredients to Make a Vegan Pumpkin Spice Latte
Almond milk - this is the base of our latte. Any nut milk will work here though!
Espresso - you can't have a latte without coffee. Feel free to substitute instant coffee or strong coffee here if you don't have espresso
Pumpkin puree - we don't use the fake stuff here. Real, natural pumpkin puree is the best in this recipe
Cashew butter - this is our super secret ingredient that provides some serious creaminess to the latte. Any nut butter will work, just make sure it's the creamy style and not chunky
Maple syrup - we sweeten our psl naturally with maple syrup. You can substitute any liquid sweetener of choice like honey or agave
Pumpkin spice - this ensures our latte contains all the necessary hints of nutmeg and cinnamon so it tastes just like the pumpkin spice latte you know and love
Homemade Latte Tips
Making your own vegan pumpkin spice latte is simple. Follow these tips to make sure yours turns our Starbucks-style every time!
Make sure to use creamy nut butter. I don't know about you but I'd rather not have chunks of cashews in my latte. The creamy style nut butters work best in this recipe and provide a smooth consistency
Use an unsweetened nut milk. Because we add in our own flavors and sweeteners with real pumpkin puree and maple syrup, plain unsweetened milk works best in this recipe
These lattes are best served fresh. You will get the best texture and flavor from this latte when enjoyed soon after making it
Get creative with the toppings! To me, the best part of a latte is the frothed milk which is super simple to add here with this milk frother. You also can't go wrong with additional cinnamon or nutmeg
Check out these other fall recipes you're sure to love!
Print
Regal Pumpkin Spice Latte
---
Description
Warm and cozy healthy pumpkin spice latte you can whip up right at home! With luxurious creaminess, beautiful autumn flavors with every sip, and a very special ingredient that knocks it outta the park, this latte is one for the books. Made with good-for-you ingredients so you can just sit back and enjoy!
---
---
Instructions
In a blender, mix all ingredients until well blended
Transfer the mixture to pot and simmer over medium-low heat. Continue to stir to prevent burning and/or settling
Pour into 2 mugs and top with frothed almond milk (I use this to froth almond milk and it's the best!), an extra sprinkle of pumpkin spice, and enjoy!
Notes
* Note : If you don't have pumpkin spice you can make your own with ¼ teaspoon each cinnamon, nutmeg, and ginger