Vegan Cauliflower Alfredo Pasta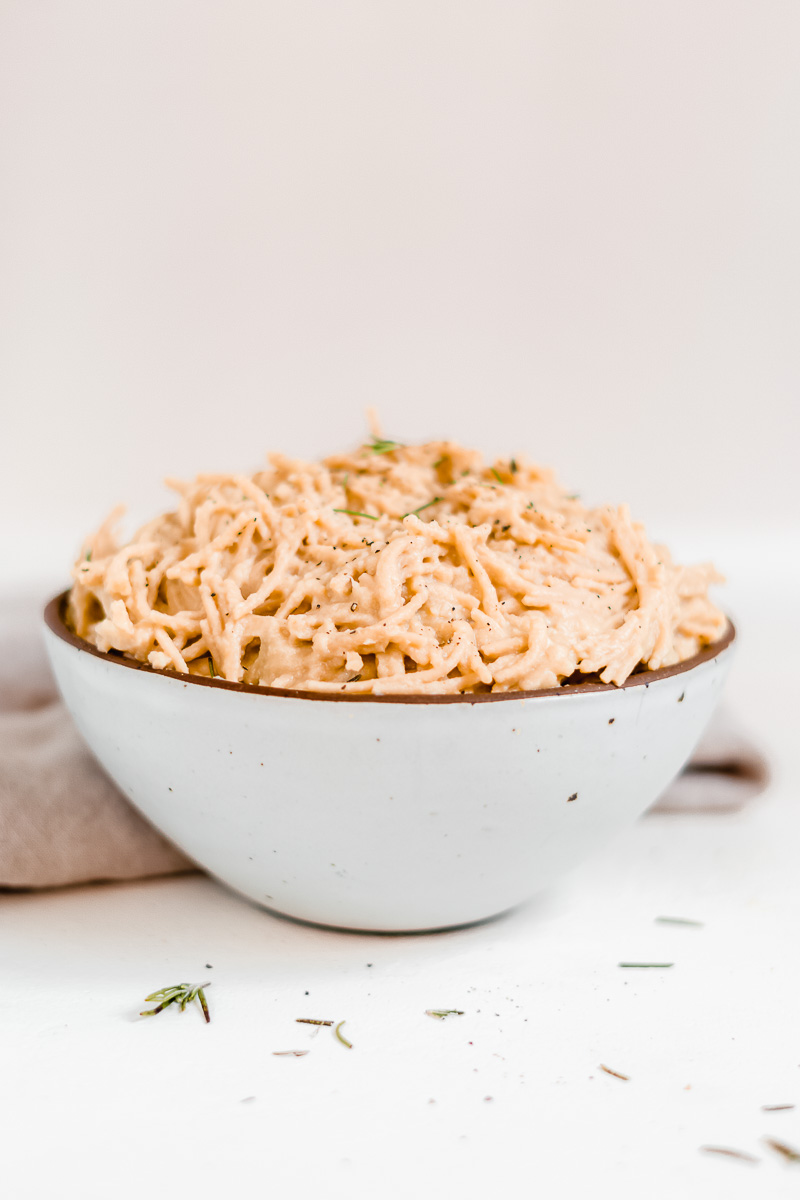 Cauliflower Alfredo Sauce
paleo, dairy-free, gluten-free
This pasta sauce is so velvety smooth, thick, and luscious and is perfect for any night of the week. You would ever even guess the main ingredient is cauliflower!
I'm pretty sure the best way to sneak some veggies into anyone's diet is to pair them with a nice big bowl of pasta. I like to call cauliflower the chameleon of the veggie group because it literally takes on any flavor you pair it with. That's why when you add nutritional yeast, sauteed onions, and garlic to the mix, you get this delicious creamy sauce that tastes just like Alfredo sauce.
Nutritional yeast is that nutritious (duhh) yellow flaky seasoning that gives everything it touches a nice "cheesy" flavor. It's kinda my bestie. Other things I've used it in - Salmon Mac & Cheese, "Cheesy" Popcorn, and this Buffalo Chicken Stuffed Sweet Potato.
I'm just going to be honest with you here - this cauliflower sauce brings me LIFE. I'm a firm believer in switching things up in order to maintain a healthy lifestyle and finding sauces you can throw into the mix is a game changer! Not to mention the alfredo-style vibes that bring me back to my fettuccine alfredo with shrimp days. I'm thinking everyone in the family is going to love this one!

Vegan Cauliflower Alfredo Pasta
Ingredients
Directions
Heat coconut oil in skillet over low heat

Once oil is melted, add in chopped onions and cook until translucent

Next, add in the garlic to the skillet and cook for 1-2 minutes

Pour broth into skillet, add chopped cauliflower, and steam with the lid on for ~5 mins

While cauliflower is steaming, heat up a pot of boiling water and cook the chickpea pasta

Add the cauliflower mixture, nutritional yeast, and sea salt to a high powered blender and process until creamy (this should take about a minute)

Drain pasta and once ready to serve transfer to a large mixing bowl and pour the sauce over top, mixing well to coat the pasta
MAKE SURE TO TAG ME @THE.FIT.PEACH ON INSTAGRAM OR LEAVE A COMMENT BELOW IF YOU MAKE THIS CAULIFLOWER ALFREDO PASTA RECIPE.