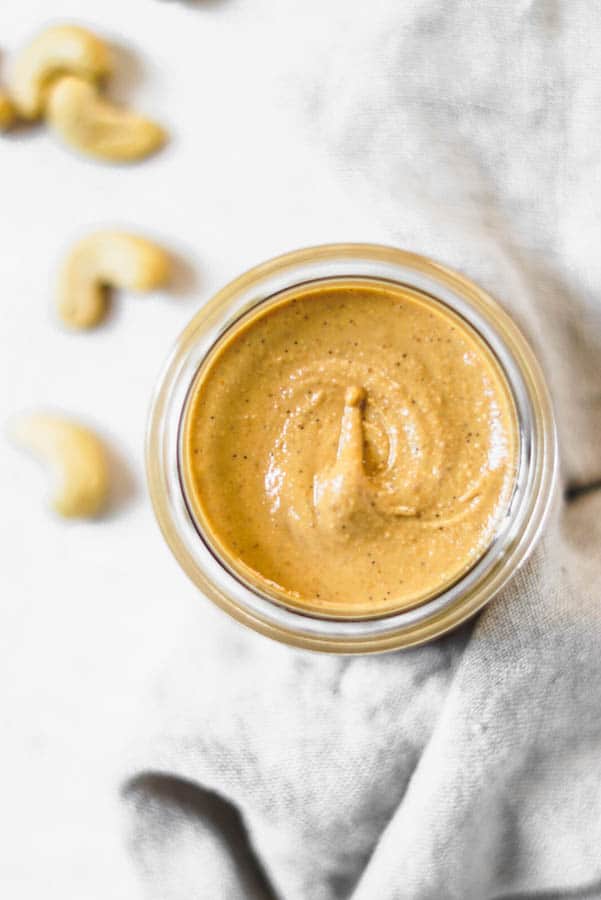 I've said it before and I'll say it again…I love nut butter! I honestly can't remember a day where I went without a spoonful of it at some point - either in my morning oats, on a piece of toast, or straight outta the jar (my personal favorite). The stuff is liquid GOLD.
I'm usually a chocolate gal if you can't already tell from these blondies or these doughnuts. However, I had an itch for some vanilla in my life. But not just any vanilla…vanilla bean. If you walk down an ice cream aisle at your local grocery store you'll probably find all kinds of vanilla from homemade vanilla, french vanilla, old fashion vanilla, etc. To me, it just doesn't get any better than vanilla bean - I think the specks add a little character 😉
Print
Vanilla Bean Cashew Butter
---
Description
Delicious homemade cashew butter with hints of sweet vanilla bean. Perfect to spread on toast, fruit, or straight out of the jar!
---
---
Instructions
Preheat oven to 350F
In a mixing bowl, mix together cashews and melted coconut oil
Place cashews on a baking sheet and bake for ~10 mins until the cashews look golden
In a food processor, blend the baked cashews, dash of sea salt, and the 'seeds' from the vanilla bean (see tip below for how to use a vanilla bean) in a food process for about a minutes until you reach a creamy consistency
Notes
*vanilla bean tip - to use a vanilla bean, split the bean down the middle using a small extra sharp knife (slice only the top so you do not cut all the way through the bean). Peal the sides of the bean back to expose the seeds. With the back of a small spoon, hold the bean down on a cutting board and scrape the seeds out of the bean. These seeds are the vanilla bean specks that will do into the food processor.