Oat flour pancakes are a delicious twist on the traditional pancake recipe. Made with oat flour and Greek yogurt, they're soft, fluffy, and quick to make. Packed with all your favorite mix-ins like chocolate chips, blueberries, or nuts, and topped off with a good dose of maple syrup, these oatmeal pancakes are a tasty breakfast you'll look forward to eating! Gluten with dairy free options, too.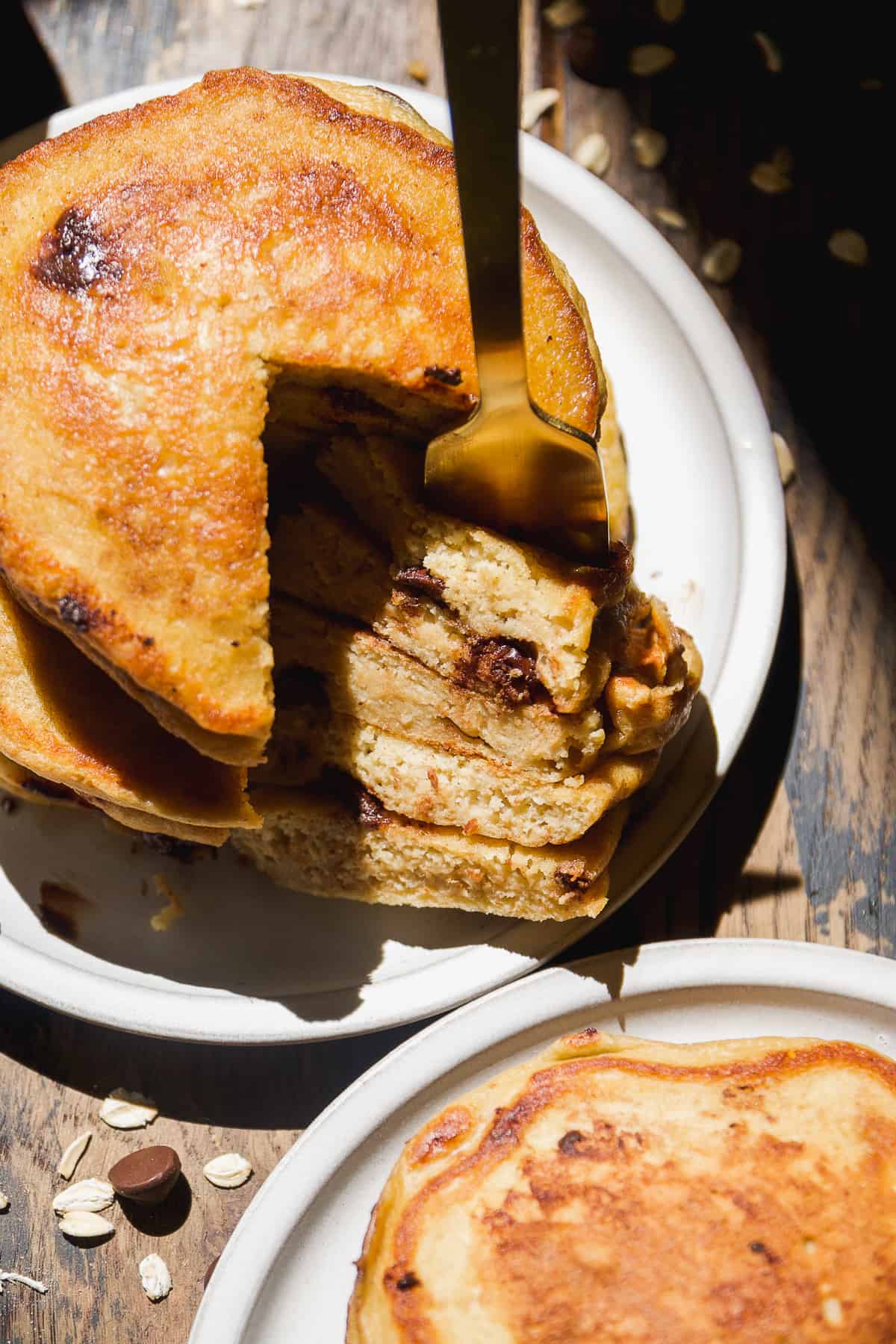 Oat Flour Pancakes Recipe
There's nothing better than starting your day with a big 'ole stack of hot pancakes! However, gluten free varieties aren't always easy to come across, and when you do happen to find them they aren't always the best. Until now!
Better than any boxed or store-bought varieties, these oat milk pancakes are perfectly crisp around the edges, tender in the center, and cook to golden perfection in minutes. Best of all, they're given a boost of extra protein thanks to the use of Greek yogurt.
Whether you're feeding a crowd for brunch or treating yourself to a sweet weekday breakfast, these oat flour pancakes are guaranteed to hit the spot. In fact, you'll probably want to go ahead and make a double batch!
Jump to:
Why you'll love this Oat Flour Pancake Recipe
Naturally gluten and nut free-friendly
They cook in 4 minutes or less
The batter is great to prepare in advance
Leftovers are easy to store and reheat well
There's an endless variety of mix-in options so you never get bored
Oat Flour Pancakes ingredients
Greek yogurt - This helps add bulk to the batter, keeping the pancakes moist and helping them become extra fluffy. Plus, it adds a boost of protein! I used 0% fat, but any plain, unsweetened yogurt will work.
Eggs - Two eggs are used to add structure to the batter, helping the oat flour pancakes rise and hold their shape. I have not tested this recipe with flax or chia egg substitutes, but that is what I recommend using if you want to make these oatmeal pancakes vegan.
Oat milk - Used to help thin out the batter and combine the ingredients. Any milk will work as long as it's plain and unsweetened.
Lemon juice - The acid adds lift, making these oat flour pancakes the fluffiest you'll ever make. Apple cider vinegar works well, too.
Oat flour - The base of the batter. You can make your own at home using gluten free quick oats. Or, buy it from the store for a smoother batter.
Sugar - A small amount of coconut sugar adds a hint of sweetness while keeping the pancakes moist. Brown sugar can be used as well.
Can I use homemade oat flour?
Homemade oat flour can definitely be used in this recipe. You may find that the batter is a tad grainy which is fine, that's just tiny bits of oat that haven't been ground up all the way.
Variations on Oatmeal Flour Pancakes
Chocolate chip oatmeal pancakes are my personal favorite! I like to use mini chocolate chips so there's chocolate in every bite!
Blueberry pancakes are always a fan favorite, but strawberry slices would be amazing in this recipe, too!
Make them banana pancakes by adding little banana rounds to the pancakes while they're on the skillet.
Turn your oat milk pancakes into festive pancakes with some sprinkles!
How to make Oat Flour Pancakes
Just as easy as a boxed variety, these oat flour pancakes are super quick and fun to make. We're talking cooks in 4 minutes quick. All you'll need is a bowl, a skillet, a ¼ cup measuring cup or small cookie scoop, and a spatula.
Step 1: Combine the wet ingredients. In a large mixing bowl, stir the wet ingredients together until they're smooth and well combined.
Step 2: Add the dry ingredients. Working slowly, gently fold in the dry ingredients just until no clumps remain. Once the batter is smooth, fold in the mix-ins.
Step 3: Cook the oat milk pancakes. Heat a skillet over medium heat, and add a drizzle of oil or butter to coat the pan. Then, scoop ¼ cup portions of the batter onto the pan.
Cook until the edges puff up and little bubbles begin to appear in the center of the pancakes. Carefully, flip them over, and continue to cook until your desired doneness is achieved.
Repeat this step until all the batter has been used, and serve your oatmeal pancakes will all your favorite toppings while they're still warm.
Toppings for Fluffy Oat Flour Pancakes
Because these pancakes aren't too sweet, toppings are a great way to add some natural sweetness. Here are a few of my favorite ways to top these oat flour pancakes:
Dollop of Greek yogurt (this can act like whipped cream in normal pancakes)
Pile of fresh sliced fruit
Drizzle of almond butter
Honey or maple syrup on top
Oat Flour Pancake Recipe expert tips
Store-bought oat flour will yield smoother pancakes and is my preferred flour to cook with. You can use homemade oat flour, but the pancakes will be a little grainy.
Make sure to let the pancake batter set for about 5 minutes. It will thicken up during this time which helps ensure super fluffy pancakes.
You want the skillet to be hot to the touch but not so hot that it overcooks the outside of the pancakes without cooking the inside. Medium-low to medium heat should be perfect for cooking these oat flour pancakes.
Can I make the batter ahead of time?
Yes, this batter actually keeps really well if you want to make it ahead of time. Simply follow the recipe as directed, and store it in an airtight container in the fridge for up to 36 hours. When ready to make the oat milk pancakes, add a splash of milk or water to help loosen up the batter and cook as directed.
How to store Oatmeal Flour Pancakes
These oatmeal pancakes are best served fresh off the griddle. However, if you have some leftover, store them in the fridge or freezer in an airtight container. When ready to enjoy, toast them in a toaster oven for 1 minute if coming from the fridge and 2 - 3 minutes for frozen pancakes.
If you're looking for more great ways to use oat flour, check out my fluffy lemon out flour pancakes and these oat flour chocolate chip cookies, too!
FAQs for Pancakes with Oat Flour
Can oat flour be substituted for all-purpose flour?
Yes, you can use an equal amount of all-purpose flour in place of the oat flour.
Does oat flour rise?
I have found that oat flour is one of the best gluten free flours to bake with as it will puff up with the proper leavening agents and other ingredients. The egg and Greek yogurt in this pancake recipe help the oat flour to rise and become fluffy.
Why are my oatmeal pancakes soggy?
If your pancakes are soggy you probably cooked them at too high of heat which prevented the inside of the pancake to cook all the way through. Make sure your griddle or skillet is hot to the touch but not smoking. When the batter hits the skillet, you should hear a slight sizzle and then see the pancake begin to form with bubbles popping in the batter over the course of 1 - 2 minutes.
Why does the recipe use lemon juice?
The lemon juice adds acidity which is needed when baking with gluten free flour so that the baking powder has something to react with. If you don't have lemon juice, swap it with an equal amount of apple cider vinegar.
Why do my oat pancakes fall apart?
Overmixing the pancake batter can lead to dry pancakes that can fall apart. The egg in the recipe also helps bind everything together so I don't recommend substituting.
How do you thicken oatmeal pancake batter?
The greek yogurt will help thicken up the pancake batter.
for more easy breakfasts, check out my:
PS : If you make this recipe, be sure to leave a star review and comment below! Also be sure to follow along with me on Instagram and Pinterest to stay up to date on all tasty recipes here at The Fit Peach!,
Recipe
Pancakes with Oat Flour
Oat flour pancakes are a delicious twist on the traditional pancake recipe. Made with oat flour and Greek yogurt, they're soft, fluffy, and quick to make!
Print
Pin
Rate
Ingredients
1

cup

greek yogurt

-

plain and unsweetened

2

egg

1

cup

oat milk

-

substitute any milk

2

teaspoon

vanilla

1

teaspoon

lemon juice

-

or apple cider vinegar

2

cup

oat flour

-

store bought or homemade

3

tablespoon

coconut sugar

-

or brown sugar

1 ½

teaspoon

baking powder

¼

teaspoon

sea salt

Oil or butter

-

for cooking
Optional toppings and/or mix-ins
Chocolate chips

Blueberries

Nuts
Instructions
In a bowl, stir together the greek yogurt, egg, oat milk, and vanilla extract until well blended.

Add the oat flour, coconut sugar, baking powder, and sea salt to the bowl and gently fold until no flour clumps remain. If adding mix-ins, fold them in now. Set the bowl aside so the batter can thicken up while the skillet heats up.

Heat a non-stick skillet over medium heat with a drizzle of oil or butter to lightly coat the bottom of the pan. Once the pan is hot, use a ¼ measuring cup or a large cookie scoop to scoop the batter onto the pan. Depending on the size of your pan, I don't recommend cooking any more than 3 pancakes at a time.

Allow the pancakes to cook on the skillet until the edges puff up and little bubbles begin to appear inside the pancake (this will take 1 ½ - 3 minutes). Carefully flip each pancake over and allow them to cook on the other side for another minute. Remove from the skillet and transfer to a plate and repeat with the remaining batter.

Serve with butter, maple syrup, and optional toppings and enjoy!
Notes
*Nutrition does not include optional mix-ins.
Storing : Let the pancakes cool completely, and store leftovers in an airtight container in the fridge for up to 1 week.
Nutrition
Serving:
1
serving
|
Calories:
249
kcal
|
Carbohydrates:
37
g
|
Protein:
12
g
|
Fat:
6
g
|
Saturated Fat:
1
g
|
Polyunsaturated Fat:
2
g
|
Monounsaturated Fat:
2
g
|
Trans Fat:
0.01
g
|
Cholesterol:
56
mg
|
Sodium:
275
mg
|
Potassium:
238
mg
|
Fiber:
3
g
|
Sugar:
9
g
|
Vitamin A:
163
IU
|
Vitamin C:
0.3
mg
|
Calcium:
184
mg
|
Iron:
2
mg