This Chocolate Covered Strawberry Pop Tarts recipe is sponsored by Purely Elizabeth. All thoughts are my own. Thank you so much for supporting brands that make The Fit Peach possible!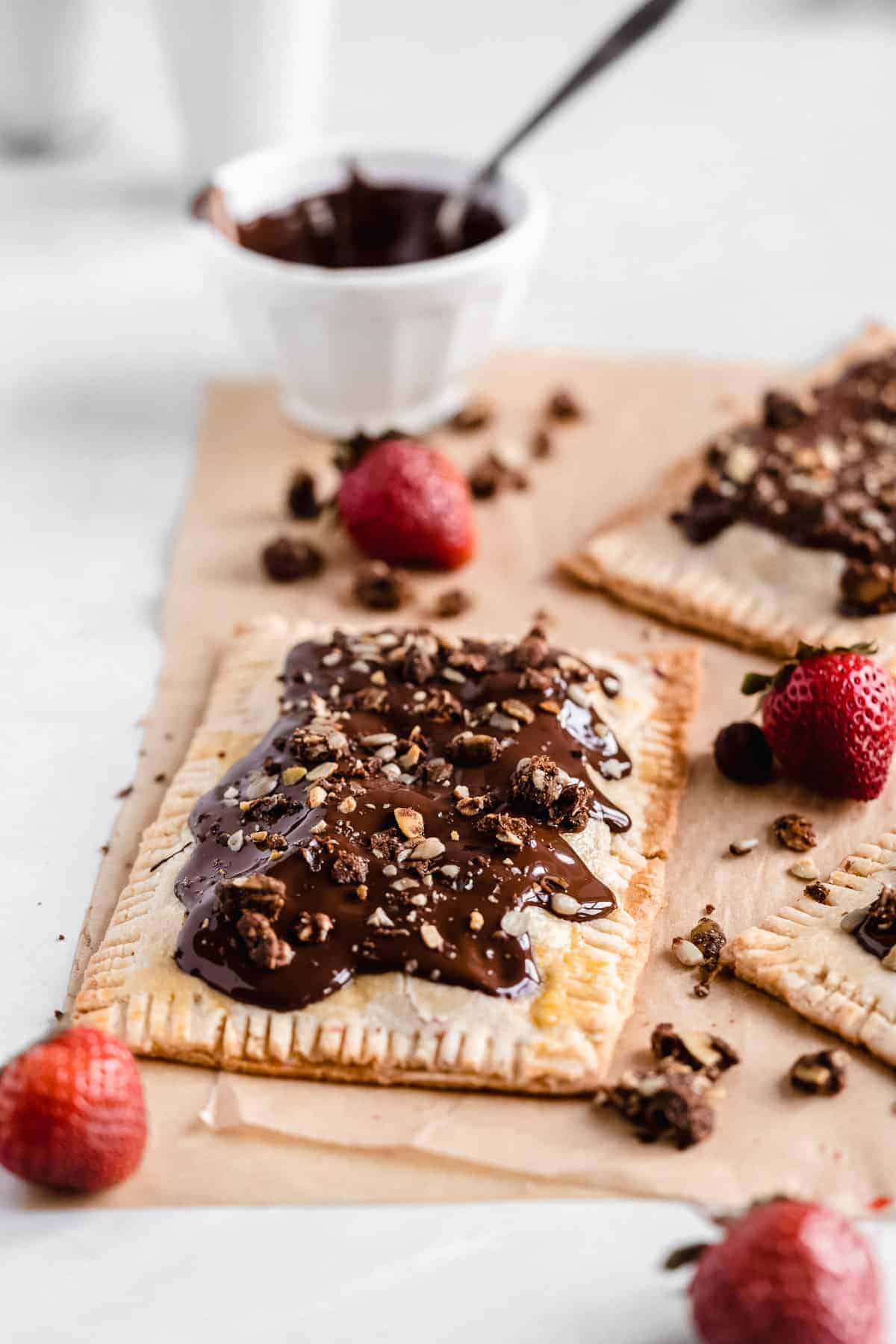 These homemade gluten-free pop tarts have major chocolate covered strawberry vibes all in a childhood classic pop tart! They have a delicious flaky crust stuffed with a sweet strawberry jam and a chocolate coating on top sprinkled with Purely Elizabeth grain-free granola. A batch of chocolate covered strawberry pop tarts is what your weekend needs!
What is a Chocolate Covered Strawberry Pop Tart?
I'm so glad you asked! There are 3 critical parts to a chocolate covered strawberry pop tart:
A buttery and flaky crust. I'm talking golden-brown edges with a soft center that holds all the goods inside. Believe it or not, this crust here is gluten-free, vegan, and paleo-friendly!
A sweet strawberry jam filling. This is the juicy part in the middle that is to.die.for. The best part about it is it's homemade and simple and easy to make with only 2 ingredients.
Chocolate toppings. Ahh, the grand finale. You simply CANNOT skimp on the pop tart toppings. The great news is that you have options. You can top your pop tarts with melted dark chocolate or a rich hazelnut butter. You really bring it to the next level when you sprinkle Purely Elizabeth Chocolate Hazelnut Grain-Free Granola on top though.
Why Purely Elizabeth Granola is the Best
Purely Elizabeth granola has been a favorite of mine for quite sometime. It's one of the cleanest granolas on the market, is a woman-owned business, and it tastes AMAZING. It's also not just toasted oats. They use a blend of superfoods like amaranth, quinoa, and chia seeds to make each batch of granola. Here are a couple other reasons why I love their products:
The granola is naturally sweetened with coconut sugar
They use gluten-free oats with all of their products
Instead of hydrogenated oils, the oats are toasted with coconut oil
You can check out all of their goods here!
Gluten-free Chocolate Covered Strawberry Pop Tart Ingredients
These homemade pop tarts are made with high-quality and natural ingredients. The dough is super easy to make and handle and the jam is so simple you may want to add it to your toast for the week too!
almond flour
tapioca flour
coconut oil
maple syrup
strawberries
chia seeds
dark chocolate
Purely Elizabeth Chocolate Hazelnut Grain-free Granola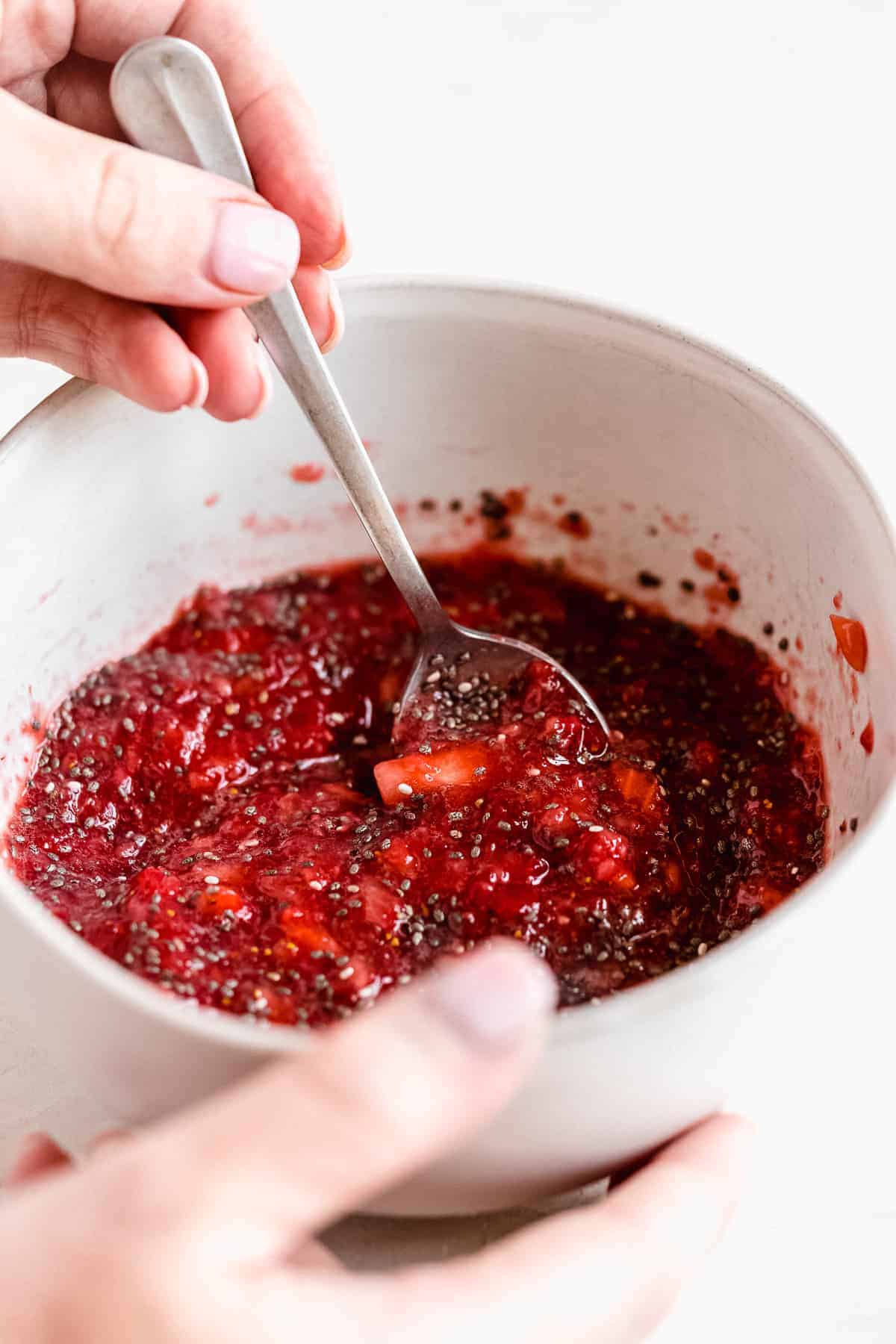 How to Make Gluten-free Pop Tart Crust
Making a homemade pop tart sounds intimidating right? Most likely due to the making of the pop tart crust. Trust me on this though, the dough is quite easy to make and with a few tricks (more on this below) you'll find that handling it is a breeze too.
There are a couple ways you can make the dough:
with a stand mixer
in a food processor
or use a mixing bowl with a spatula or wooden spoon
The key to making a gluten-free dough is to make sure it has enough moisture. When you take the gluten out of the flour, it removes some of the "stickiness". This is why a lot of gluten-free dough falls apart. We use a bit of tapioca starch to help with this aspect and it works great!
With that said, to make the dough start with your flours and salt in a bowl or food processor and slowly add in just 4 tablespoon solid coconut oil (if it started to melt, try sticking it in the fridge for a few minutes) and 2 tablespoon cold water. Also add the maple syrup in at this time. Then, mix or pulse together. If you don't see clumps of dough starting to form, add a tablespoon of each coconut oil and cold water and mix again until clumps form.
Once the dough begins to stick together, mix a couple more times until you can form one large ball of dough. Wrap the dough in cling wrap and place in the fridge (this makes it easier to roll out).
Tips on Handling the Gluten-free Dough
As I stated before, and you probably already know, gluten-free dough can be tricky. My number one tip is that these don't have to be PERFECT. Just do your best, that's the joy in home-baked goods! However, here are a few tips when handling it:
Roll out the dough on top of a piece of parchment paper. This makes it easy to just transfer the parchment paper directly onto a baking sheet to bake - no picking up the dough required!
Use tapioca flour or arrowroot starch when rolling out the dough. Start with just a few sprinkles but continue to add some if the dough is sticking to the rolling pin.
To cut the dough, trim your dough into a large rectangle. Slice the rectangle with a sharp knife in half both horizontally and vertically. This should give you 4 equal rectangles about the size of a pop tart!
When rolling out the other half of the dough (this half will be the tops of the pop tarts), again roll it out on parchment paper. When transferring the tops over to the baking sheet where the bottom piece and the jam are, either flip the parchment paper over on top of the baking sheet OR flip the dough over into the palm of your hand and then flip it on top of the pop tart. It won't work well if you try to peel the dough off the parchment paper.
The Homemade Strawberry Jam Filling
The filling is probably my favorite part because it's just so easy to whip up! To make, you need fresh and washed strawberries. I like to wash them right before I make the jam as the excess water helps in breaking up the berries. Which leads me to the first step in making homemade jam. Cut up the strawberries in half or fourths and place in a bowl. With the back of a fork, simply mash the strawberries leaving a few chunks. Next, stir in the chia seeds and let it sit for a couple minutes while the chia seeds soak up the moisture and the strawberries begin to thicken up.
I personally think the natural sweetness of the strawberries is perfect but if you prefer your jam on the sweeter side, feel free to stir in a touch of maple syrup or honey. And that's it! It's so simple I will keep some in the fridge and use it to spread on top of toast during the week!
I Think You'll Love these Other Breakfast Treats!
Print
Chocolate Covered Strawberry Pop Tarts
---
Author:

Ansley Beutler

Total Time:

30 minutes

Yield:

4

-

5

Pop Tarts

1

x

Diet:

Vegan
For the Pop Tart Crust
1 ⅓ cup

almond flour

1 cup

tapioca flour (plus a little more for rolling out the dough)

4

-

5

tablespoon coconut oil, solid

2

-

3

tablespoon cold water

2 Tbsp

maple syrup

¼ tsp

sea salt

1 ½ cup

fresh strawberries

1 ½ Tbsp

chia seeds

1

egg or

1 Tbsp

melted coconut oil for the "egg wash"
To top
½ cup

dark chocolate chips, melted (substitute hazelnut butter, icing, etc.)
---
Instructions
Preheat oven to 350. With a stand mixer or in a bowl with a wooden spoon or spatula, add the almond flour, tapioca, sea salt. Slowly add 4 tablespoon of the coconut oil, 2 tablespoon of cold water, and maple syrup. Mix until clumps of dough begin to form. If needed, add in another 1 tablespoon coconut oil and/or 1 tablespoon cold water until the dough forms a large ball. Place dough in fridge while you prepare the filling
For the filling, pulse the washed strawberries in a food processor, leaving a couple big chunks in the mix (you can also use the back of a fork to mash in a bowl). Stir in the chia seeds and set aside
Cut the dough in half and roll out into a large rectangle on a lightly floured surface until about ¼ inch in thickness. Trim the edges of the dough and cut in half both horizontally and vertically to make 4 rectangular pieces of dough. Transfer dough to a baking pan lined with parchment paper. Spread about 2 tablespoon of the strawberry jam in the middle. Repeat the same thing for the other half of the dough and place over top of each pop tart on the baking sheet. Brush the top of each pop tart with the egg (whisked) or melted coconut oil. With the back of a fork, press around the pop tart edges to "seal" it off then bake in oven for 10 - 12 minutes until the edges are crispy. Let cool
Once cooled, drizzle either melted chocolate, hazelnut butter or spread of choice over top of each and sprinkle with Purely Elizabeth Chocolate Hazelnut Grain-free Granola and enjoy!
Notes
*To store, place in an airtight container in the fridge for up to 5 days
Prep Time:

20

Cook Time:

10

Category:

Pastry

Method:

Bake

Cuisine:

American
Keywords: Chocolate Pop Tart, Strawberry Pop Tart, Chocolate Covered Strawberry Pop Tart, Gluten-free Pop Tart