Easy Baked Parsnip Fries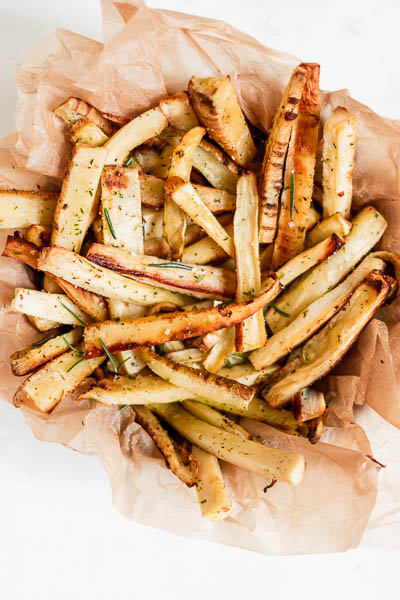 paleo, gluten-free, refined sugar-fee
I can safely say I've never met a fry I didn't like. That's actually probably a lie, I was never a fan of those under-cooked wedge fries they served at my Elementary school 😝. As an adult though, my tastes have changed and I've been on the hunt for the healthiest fry in the world - enter parsnip fries!
Parsnips are actually a root vegetable (so these are basically like a salad in fry form right?). You can find parsnips looking like a super pale carrot in the produce section of your local grocery store. They have a little bit of a nutty flavor to them and paired with coconut oil they are down right delectable!

Baked Rosemary Garlic Parsnip Fries
Ingredients
2 large parsnips

1/4 cup coconut oil

2 Tbsp fresh rosemary

2 tsp garlic powder

dash of sea salt
Directions
Preheat oven to 400 F

Cut parsnips in half down the fat side (this makes it easier to handle). Then cut into fries by cutting each half again in half and then into rectangular shapes from there

Place cut parsnips in mixing bowl with melted coconut oil, rosemary, garlic, and sea salt and mix thoroughly

Spread fries out evenly onto a baking sheet and bake for ~25 minutes until they reach a golden color
MAKE SURE TO TAG ME @THE.FIT.PEACH ON INSTAGRAM OR LEAVE A COMMENT BELOW IF YOU MAKE THIS PARSNIP FRY RECIPE.