Enjoy an epic spread of salty and sweet treats with a dessert charcuterie board. The customization possibilities are endless and it makes a great holiday or party spread everyone will love.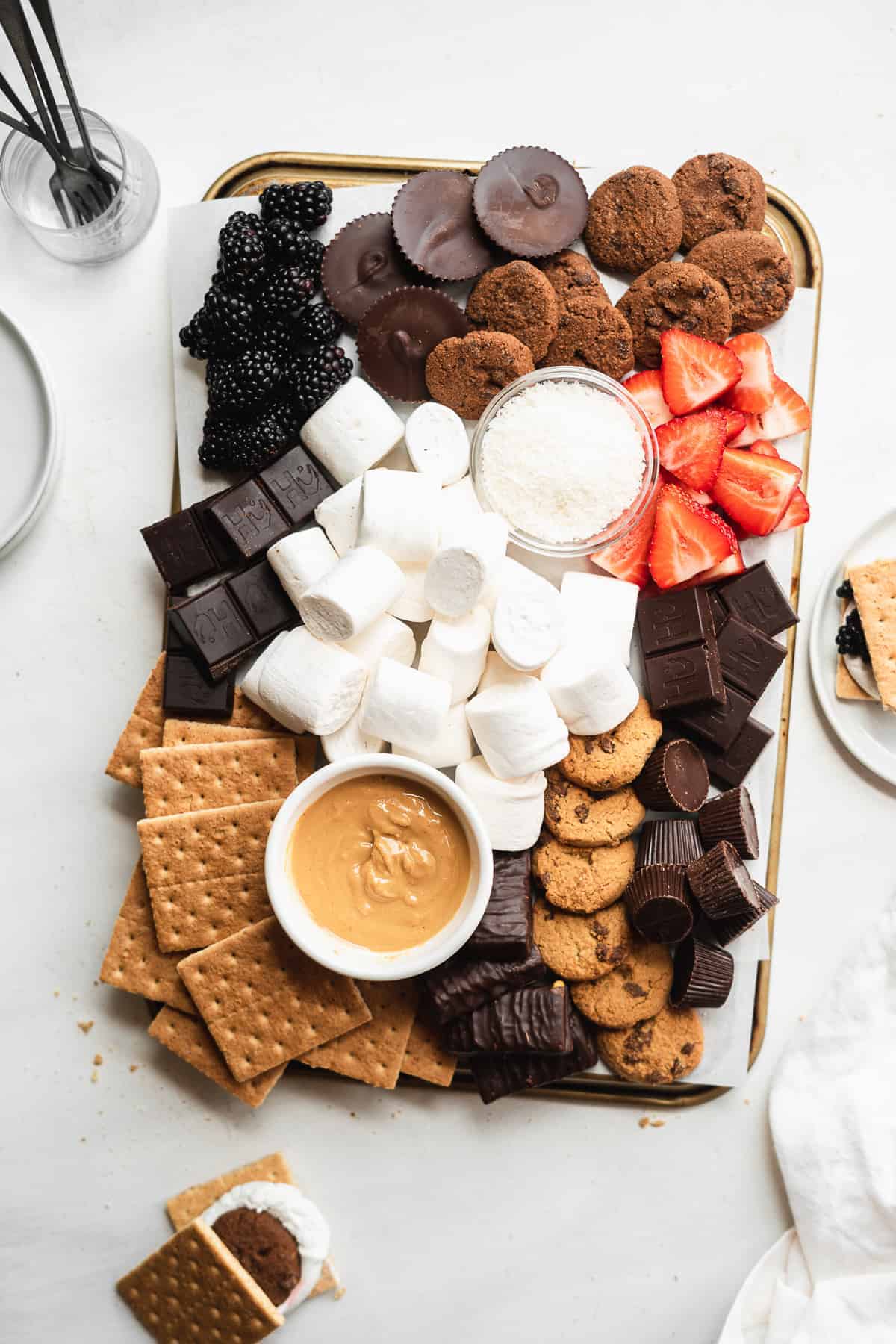 This S'mores Board is such a sweet and fun treat!
Although charcuterie boards have gained in popularity over the last few years, have you ever tried a dessert charcuterie board?! They're a sweet twist on the classic meat & cheese platter and are perfect for girl's nights, parties, and simple gatherings.
Because I love a good s'more, this dessert charcuterie board allows guests to make their own elevated s'more or simply indulge in the chocolate and candy scattered about. With a plethora of sweets to choose from, this is a spread nobody can resist, plus the kids will go crazy for a custom s'more!
Jump to:
What is a dessert charcuterie board?
Similar to the standard meat and cheese style charcuterie board, a dessert charcuterie board is a mixture of small snacks and bites but with a focus on sweets. A platter like this should be enjoyed after dinner or served during an afternoon party.
You can include chocolates, fresh baked treats, fruits, or even some salty things to add variety.
S'mores Charcuterie Board Ingredients
The best part about this dessert charcuterie board is that it's incredibly customizable. Yes, there are a few critical elements to a s'mores, like graham crackers and marshmallows, but the topping possibilities are truly endless. Here is what I chose to put on our s'mores board:
Graham crackers - It's hard to make a s'more without graham crackers! I have a recipe for homemade graham crackers or you can pick up a box from your grocery store.
Marshmallows - I used these vegan marshmallows but feel free to use any kind you want.
Chocolate - The classic s'more addition. I used one of my favorite chocolate brand, Hu Kitchen, on my dessert charcuterie board (use code thefitpeach for 10% off). I stuck with the classic, simple dark chocolate and salty dark chocolate but they have a variety of other flavors too!
Peanut butter cups - These are the perfect way to elevate a s'more IMHO. I mean there's chocolate a peanut butter all in one and it easily fits right inside a s'more. I used these Justin's mini dark chocolate peanut butter cups and their large cashew butter cups.
Fruit - Give you s'mores some serious chocolate covered fruity vibes and slip a strawberry or blackberry in the middle. Trust me, it's heavenly!
Cookies - These Simple Mills miniature cookies are perfect inside a toasted s'more! It's like cookies & cream and s'mores fell in love.
Nut butter - Add a small bowl of your favorite nut butter to your dessert board and allow people to spread some on a graham cracker before adding a toasted marshmallow to the middle! Georgia Grinders is my go-to nut butter brand (you can use code THEFITPEACH for 10% off!).
Candy bars - Throw in some miniature candy bars and really level up your s'more game! They're also great for those not taking part in the s'more activities! I used these Unreal caramel nougat bars (aka a glorified Snickers!).
Coconut - In every crowd, there's sure to be a coconut lover present. Add a little bowl of coconut shavings to your dessert charcuterie board and sprinkle it on top of a toasted marshmallow!
How to Assemble a Dessert Charcuterie Board
Choose a board for your dessert charcuterie. You can get creative here, it doesn't have to be a fancy charcuterie board. I used a cookie sheet with some parchment paper on top. You can also use a large plate, a cheese board, a cutting board, or a cake stand.
Put a few small bowls on the board. I recommend 2 - 3 depending on the size of your board. Fill each bowl with a topping of choice. If using something that can't be picked up with your hands, like nut butter or coconut shavings, use the bowls for those.
Pick our your largest dessert charcuterie items, for me this was the graham crackers and marshmallows, and place them on the board.
Fill in the bare spots on the board with the remaining items. They don't have to look perfect. I chose to make a few rows with the cookies and filled in the spaces around them.
Serve the board with some plates on the side and long skewers to toast the marshmallows. Oh, and a bottle of wine, because why not? Robert Mondavi Private Selection's Bourbon Barrel-Aged Cabernet Sauvignon is my all-time favorite!
Sweet Charcuterie Board Customizations
I would be remiss if I didn't recommend a few other ways to make this dessert charcuterie board your own. But, if s'mores aren't your thing, no problemo! Simply swap out the marshmallows for something else and create the ultimate dessert grazing board!
Here are a few other sweet things you can add to your platter:
Add some caramel to the board. This dairy free and vegan caramel is simply amazing and real easy to make. Add some apple slices to the board too for an easy dip!
Throw in some white chocolate to easily add some variety and color to the board!
Add a few pretzels for the perfect salty and sweet dessert charcuterie board.
If you really want to provide a chocolate-filled board, whip up a batch of my chocolate brownie batter and fill up one of your bowls on the board.
Showcase your fresh baked treats by cutting up my dark chocolate brownies into bite sized squares or place these oatmeal cookie dough bites in a pile on the board.
These colorful frosted animal crackers are always a hit with the kids too!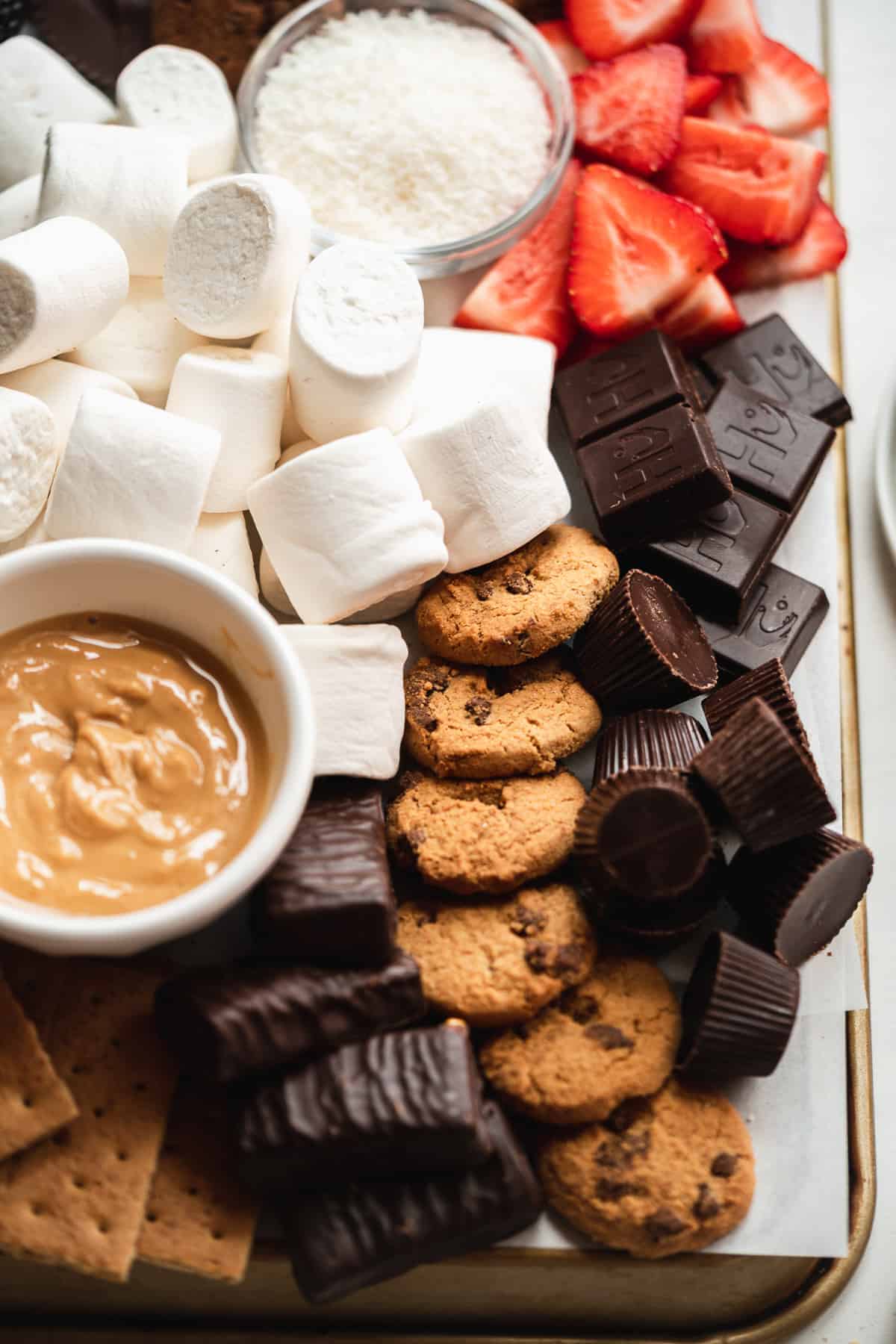 Dessert Charcuterie Tips
When styling your dessert charcuterie board, don't overcomplicate it. Here are a few tips to keep in mind:
Add a pop of color. This can be anything. Unfortunately, with a chocolate forward charcuterie board, there isn't much color. Try to add at least one thing that deters your eye away from the neutral colors. I used strawberries for this. Red or green grapes also work or even dried mango.
Variety is key! Try to mix it up and use items like chocolate, fruit, and nut butter. This provides different textures to the board and ensures there will be something for everyone!
Stack or arrange items. Don't spread out an item flat on the board. Instead, stack them into a nice pile or arrange them in a row, like I did with cookies, to provide some height to the board.
Keep similar items on different areas of the platter. If you can, try not to arrange all the fruit on one side and all the chocolate on another side. Spread out the similar items so they aren't all mixed together. If you don't have a lot of different items on your dessert charcuterie board, this can be difficult but it's just something to keep in mind. For instance, I tried to place the strawberries and blackberries away from each other on my board and the two cookies flavors are on separate ends of the board.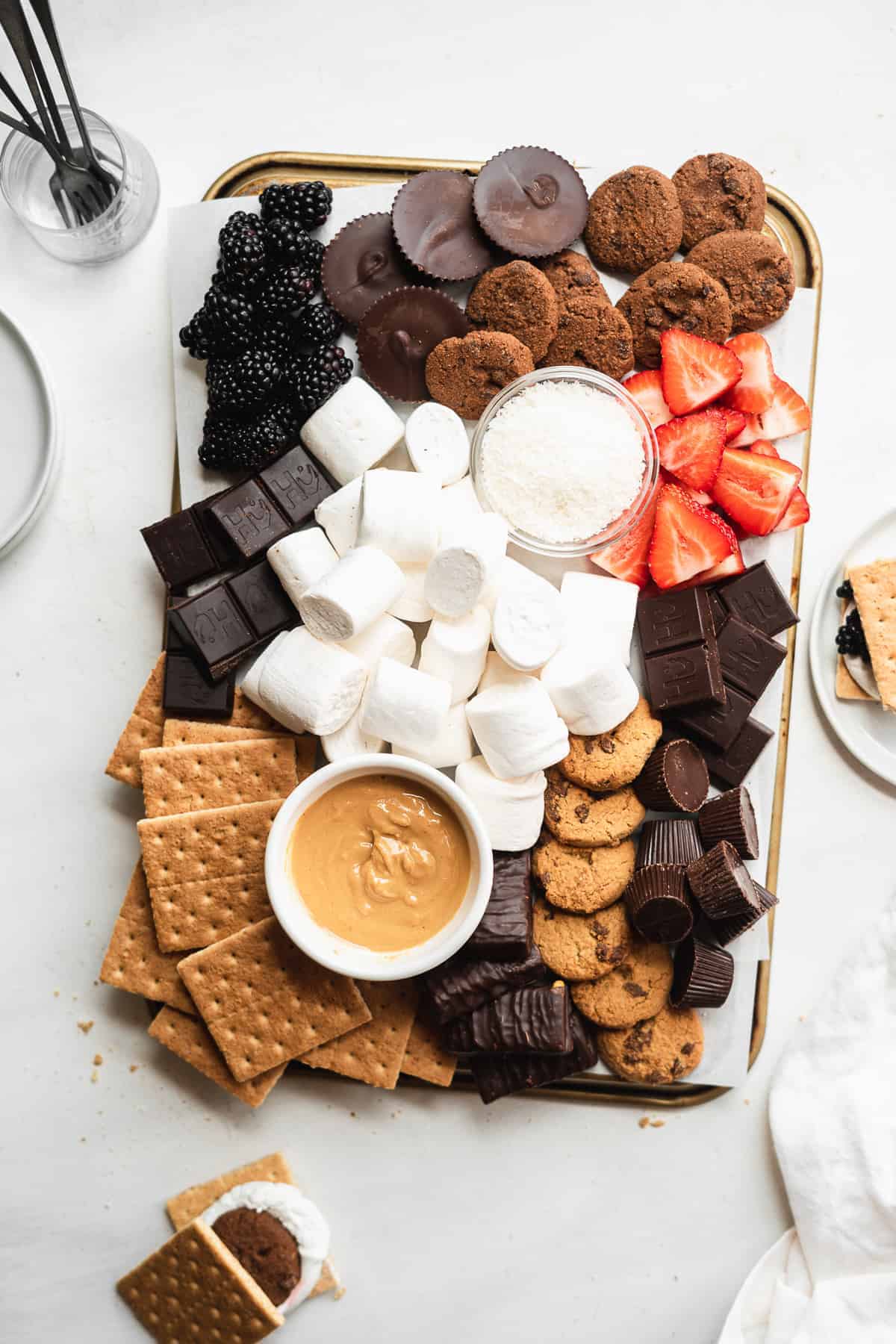 Add these to your Dessert Board:
---
PS : If you make this recipe, be sure to leave a star review and comment below! Also be sure to follow along with me on Instagram and Pinterest to stay up to date on all tasty recipes here at The Fit Peach!
---
Recipe
Sweet Charcuterie Board
Putting together an epic dessert charcuterie board is simple, easy, and down right delicious! This s'mores grazing platter is filled with all sorts of mix-ins and toppings to make an elevated s'more. It's perfect for gatherings, big or small, and the kids will go crazy for a custom s'more!
Print
Pin
Rate
Instructions
First, choose what board you are using for this dessert charcuterie board (see notes for options).

Place a few bowls on top of the board (I recommend 2 -3 depending on the size of the board). Fill each bowl with items you can't pick up with your hand (i.e. nut butter, coconut shavings, dips).

Pick our your largest sized board items, like graham crackers and marshmallows, and place them on the board around the bowls.

Fill in the rest of the board with your remaining items like fresh fruit, chocolate squares, candy bars, etc.

Serve the board alongside a stack of small plates and long skewers to toast the marshmallows and enjoy!
Notes
Board options : You don't have to use a charcuterie board, you can get creative! I used a baking pan and flipped it upside down with some parchment paper on top. Other options are a large plate, cutting board, or cake stand. Styling Tips : When selecting items for your board, make sure to add a pop of color. I used strawberries to do this. Variety is also key, try to use items that are different in taste and texture like silky chocolate and plump blackberries. When arranging your board, stack items or arrange them in a row instead of spacing them out perfectly. For instance, the chocolate squares are piled on top of each other while the cookies are scattered on top of each other in a row. This adds height to the board.
Nutrition
Calories:
225
kcal
|
Carbohydrates:
32
g
|
Protein:
3
g
|
Fat:
10
g
|
Saturated Fat:
4
g
|
Polyunsaturated Fat:
1
g
|
Monounsaturated Fat:
4
g
|
Cholesterol:
1
mg
|
Sodium:
154
mg
|
Potassium:
126
mg
|
Fiber:
2
g
|
Sugar:
19
g
|
Vitamin A:
40
IU
|
Vitamin C:
1
mg
|
Calcium:
26
mg
|
Iron:
1
mg